Ireland women to face USA Eagles in Dublin in November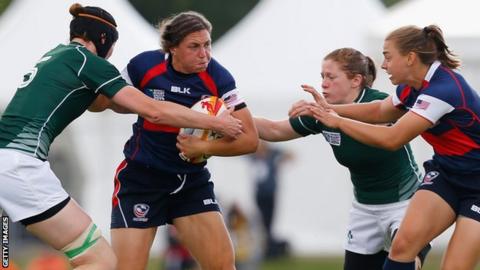 Ireland women will face USA Eagles for a fourth time when the sides meet at Donnybrook in Dublin on 18 November.
USA secured victories in 1994 and 2006 before Ireland prevailed at the 2014 Women's Rugby World Cup in France.
"It's great to have the USA travelling over for this fixture - they're a top team so it will be a good test for our side," said Irish coach Adam Griggs.
"There were many positives to take from this year's Women's Six Nations, and we'll be looking to build on these."
Tries from Ailis Egan and Niamh Briggs helped Ireland to a 23-17 victory over the Americans in Paris four years ago.
Anthony Eddy, Director of Women's Rugby, is pleased that Ireland will be able to host the Eagles in what is set to be an important season for the team.
He said: "This is the third time the women's side have played representative matches during the autumn window, and it will provide the squad with some valuable match experience leading into next year's Women's Six Nations."