Dragons hooker Richard Hibbard will 'never turn back' on Wales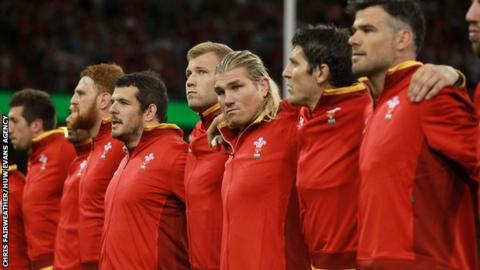 British and Irish Lion Richard Hibbard says he will "never turn his back" on Wales, but his focus now is to play well for Dragons.
At 34, the Neath-born hooker said he had been playing the best rugby of his life for Gloucester, but was happy to be ending his career at Rodney Parade.
"It's amazing to be back," said Hibbard, who left the English Premiership side after 100 appearances.
Before that he had spent a decade playing for Ospreys.
Hibbard signed for the Cherry and Whites for the 2014-15 season.
Asked if Wales' 60-cap eligibility rule had been in place back then, he said he still have would left as it was "the right time to move on".
He was contracted to Gloucester until the end of next year, but left a season early to join Bernard Jackman's side.
Gloucester memories
Hibbard reflected fondly on his time at Gloucester.
"I don't think I've got a bad memory there," he told BBC Sport Wales.
"There were a lot of learning curves. We got to three Challenge Cup finals and I was lucky enough to win it once.
"In the first season I underestimated the league. I didn't think it was going to be as tough as was it was.
"Once I got into my head how hard it was, it was good. You've got to play well or you get found out straight away."
International ambitions
Hibbard said the opportunity to end his career in his homeland was "one of the biggest things" in his decision to sign for Dragons.
"I never thought I would (come back and play in Wales), but it's amazing to be back," he said.
"Just to sit in the house with the missus, with mates down the road, it's class."
Asked if he still had ambitions to add to his 38 Wales caps, he said: "It hasn't really crossed my mind...but I'd never say no.
"If 20 hookers went down and he [Warren Gatland] didn't fancy a game himself, I'd put my boots on.
"It's something you never turn your back on, but I'm purely concentrating on my club."
Hibbard made his mark on the international scene on Wales' summer tour of Argentina in 2006, something the current team are doing next month.
"It was an amazing tour," said Hibbard.
"It was myself, Hooky (James Hook), Alun Wyn (Jones) and Ian Evans. We all had our first caps together and we're all big friends.
"The real lasting memory of that game, I had food poisoning the night before but was never pulling out. I could have broken my leg but I was never pulling out."
Hibbard missed the 2011 Rugby World Cup through injury, but impressed on the 2013 Lions tour of Australia.
He was a replacement in the first two Tests, but one of 10 Welshmen to start the final Test which the Lions won to take the series 2-1.
Bernard's vision
Dragons had a terrible season in the Pro14, finishing second from bottom in their conference with just two wins.
They conceded 94 tries in 21 games, but head coach Jackman maintained they were building and blooding younger players.
"When I met Bernard and he explained what he wanted to do and take the region, I could see it all," said Hibbard.
"I know it's not going to come overnight.
"They blooded 21 new players last year, that's important to do. I'm glad they did it last year, so next year we can put our front foot forward."
Jackman being an ex-Ireland hooker was also a big draw for Hibbard.
"I really like working under players in my position because they've got experience," said Hibbard.
"I worked with Humps (Jonathan Humphreys) in the Ospreys.
"If you do well they'll tell you, if it goes wrong, they'll tell you."
Hungry lion v the old dog
Hibbard will be 35 in December but said his body was great and he has been playing his best rugby over the last few years.
"I'm always up for a challenge," said Hibbard.
"I like a big clatter, that's hopefully what I can bring to the pitch.
"I've still got the hunger, the moment it goes away, is when you worry."
Hibbard said he looked forward to working with Dragons' current hooker Elliot Dee.
"He had a fantastic season last year and when he played for Wales, he went well," said Hibbard.
"He's the young hungry lion... he's got years ahead of him.
"If you look back to whenever you were playing well, it was because you had competition in that position.
"You can never be content or happy, you want someone pushing you. You know if someone else is knocking on the door, you've got to play well."
Moriarty 'the psychopath'
Hibbard will be joining Dragons with his Gloucester team-mate Ross Moriarty.
The 23-year-old was the first major signing by Jackman, with Wales' selection policy a key factor in the move.
Hibbard described Moriarty as a "psychopath" and "mad dog", and joked he was coming with him "as his minder".
"He got hunger and desire, he's an absolute animal," said Hibbard.
"The guy would run through walls for you if you asked him to... you can't train that in the gym or on the pitch.
"He was a bit temperamental in his younger days.
"He's only a young bloke and got a big future.
"He wants to do as well as he did in England in Wales now."