Scarlets will 'keep fighting' after losing title to Leinster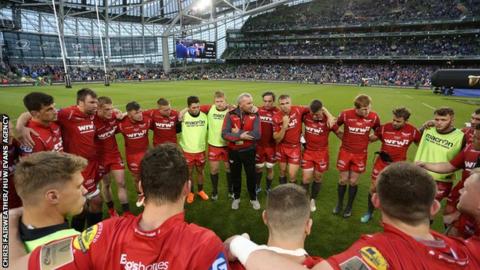 Scarlets head coach Wayne Pivac has targeted regaining the Pro14 title after losing their crown to double winners Leinster.
His side lost their Pro14 title after they were beaten 40-32 by European Champions Leinster in Dublin.
"We will keep fighting," Pivac told BBC Sport Wales.
"We want to be champions again, so there is a lot of hard work to be done."
It was a second defeat for Scarlets at the hands of Leinster in Dublin following the Champions Cup semi-final loss in April.
Pivac seemed satisfied with the season but insisted the Scarlets will improve.
"The boys have done very well and should be proud of the success they had last year and this year," said Pivac.
"We are not going to sit back and relax and say we have had a pretty good season.
"Now we have to get back to work once we get back into the season and hopefully improve again."
Captain Ken Owens praised his side's campaign after finishing second in the Pro14 and reaching a European semi-final.
"From where we've come four years ago to now, we are at the top table of Europe and in the league," said the Wales hooker.
"People asked whether last year was a fluke but we've shown it wasn't. We've shown a lot of character to get back to the final.
"We've improved in Europe and got to the semi. As long as we keep pushing ourselves we will be alright.
"It was just small margins that swung in their favour. Wayne said after the game it takes a champion side to beat another champion side."
Squad strength
Leinster won the Pro14 and Champions Cup double using 55 players this season which Pivac admitted the Scarlets cannot match.
"We don't have the budget to have the sort of numbers you are talking about with the calibre of players at the moment," he said.
"We will be looking to improve as much as we can when we can.
"They (Leinster) have a very good system and a very good budget.
"We have a pretty good record too which we are proud of with a lot of locally based players.
"We have to try and match what Leinster are doing because they are the double champion side.
"We have to try and compete with them on all fronts as well as developing young players in the market place to make sure we get the balance of our side right as they clearly have done."
'Sorely missed'
Pivac pointed to the return of injured Wales players Jonathan Davies and Jake Ball to bolster the squad.
"You have got a couple of boys coming back in Jake Ball and Foxy, so they are pretty useful players to come in," said Pivac,
"They will be fresh and available from the start of the season and having had a full pre-season.
"The squad is progressing nicely and those players coming in will add to the squad and hopefully we can perform as we did this year."
One player leaving is Wales centre Scott Williams who will link up with the Ospreys next season.
"Scott has been a great player for us," said Pivac.
"He has come through the system and is a local boy who is very proud to pull on the jersey every time he plays for us.
"He has made his decision which is tough one to move and we have been very supportive of that decision once he made it.
"He has played a magnificent role for us this year and he will be sorely missed."
Pivac also praised New Zealand wing Johnny McNicholl who scored a hat-trick in the Pro14 final in a losing cause.
"He has been superb, last week and this week," said Pivac.
"He is a quality player, you saw that again today.
"He has done very, very well coming back after the shoulder surgery."