Stuart McInally 'didn't think Scotland captaincy would ever happen'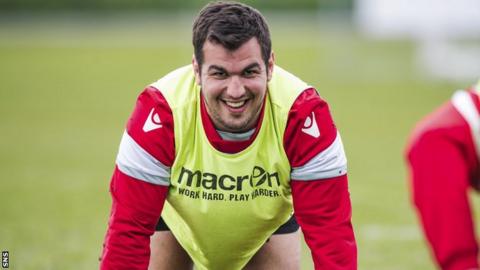 When Stuart McInally describes his elevation to the captaincy of Scotland as the "pinnacle" of his career, it's tempting, as an illustration of how far he has come in such a short space of time, to let the mind drift back to the dog days of Edinburgh last season.
McInally will lead his country on the summer tour to Canada, the United States and Argentina and, in the absence of the rested - and now injured - John Barclay, there can't have been much debate about him getting the job.
Since last autumn, the 27-year-old has been nothing less than top class and, on occasion, world class.
"I didn't think it would ever happen," he says of the captaincy and, if you look at his recent back story, you'll understand why.
Towards the end of last season, Edinburgh broke records when losing eight Pro12 matches in a row. They were, quite simply, a demoralised wreck.
In that run, Ross Ford and Neil Cochrane were selected ahead of McInally. He started just one of those games and was on the bench for five more.
The eighth defeat, in April 2017, was a 21-6 away loss to Treviso. Had you nudged in beside him on the Edinburgh bench that night and whispered to him that, in a year's time, he'd be captaining his country, then you might have got an animated response.
McInally is a polite and hugely professional guy, but he'd have been entitled to greet any talk of rays of sunshine with a thunderous scowl.
"Gregor [Townsend] phoned me on the morning after the Munster game and asked what my thoughts were on the captaincy and I was pretty excited," he says.
"He asked to meet, so we had a chat about how I approached captaincy at Edinburgh, where I had been captain for the last few games.
"He just wanted my take on things to see if that married up with what he was thinking. He seemed to be fairly happy. And that was it."
McInally's rise is hard earned and well deserved. He has become a totem of this team, a relentless ball carrier, a hooker with a monstrous work-rate who has come back strong after suffering some heavy blows in the game.
His Edinburgh malaise was bad enough, but getting named in the 2015 World Cup squad and then having to pull out with injury was worse. "Incredibly tough to take" is how he's described that period of his career, "horrible."
His approach to the captaincy? "To be honest, I try to do as little as possible," he explains. "When I captained Edinburgh before, I probably over-thought it a bit.
"I now realise that talking is good, but it's more about what you do on the pitch. I was thinking back to the best captains I've been under and it was always the guys who played best. I never really remember what people say."
He's worked under Barclay this past while and feels for his new club-mate at Edinburgh.
Barclay was always going to be rested for the summer, but a ruptured Achilles means he will miss the early months of next season as well, the autumn Tests included. McInally is the leader for the summer, but his run could well carry on into November.
"I'm gutted for John," says McInally. "He was looking forward to getting a bit of a break and then getting a full pre-season with Edinburgh.
"It's horrible what's happened to him. I had a good chat with him. I want to make sure there is some continuity to what he was doing. It's not nice what has happened, but I'm sure he'll come back stronger."
McInally is, of course, that rare breed who has excelled after a conversion from the back row to the middle of the front row. The list of players who have made such a profound switch in the professional era and have gone on to captain their country is not a long one.
"It feels so long ago that I was a back-rower," he says. "I feel that I'm firmly a hooker now, which is great, especially as, for the first few years, it wasn't that.
"I was very much a convert and everyone was giving me that tag. Now I just feel I'm a hooker and that just makes the tough times learning how to scrum worth it.
"I remember getting my face planted down in the mud back at Edinburgh and getting dragged backwards. I was thinking, 'what the hell have I done here?' But the way this year has gone has made it all worthwhile.
"I had doubts. I'd be lying if I said I was confident the whole time. There were definitely periods where I wondered if I'd made the right decision.
"I just had to keep going. I knew what I wanted to get out of it. I'm a big believer that if you keep working hard then things will come your way. It took a little longer than I'd hoped, but it's paid off now.
"I still feel I have a long way to go. The captaincy is a great honour and all that, but in terms of being a hooker, I feel I'm still quite young and I've got a lot more to learn. I'm just excited to keep going with the challenge."
This time last year, McInally wasn't mapped. An injury at the end of Edinburgh's woeful season ruled him out of Scotland's tour to Singapore, Sydney and Suva and, even if he was fit, the chances are that he wouldn't have been picked at any rate.
Fraser Brown, Ross Ford and George Turner were the three who travelled. At that point, McInally hadn't featured for Scotland in a year.
"It's just been a whirlwind in terms of not playing at all for Scotland last year to playing as much as I have this year," he adds. "It's been great, a big honour, and I just want to keep it going."
For McInally and his team, the next stop is Edmonton then onwards to Houston and Resistencia to play Argentina. It's a long trip but a mere hop and skip compared to the road he has already travelled.