England and clubs have hit roadblock over injuries, admits clubs chief
By Chris Jones
BBC Radio 5 live rugby union reporter
Last updated on .From the section Rugby Union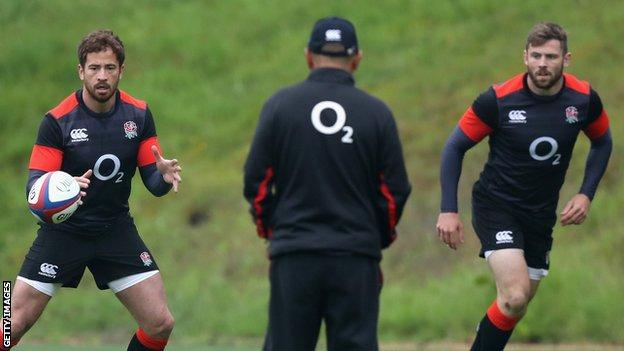 Relations between club and country have "hit a roadblock" over the rate of injuries in England training, says Premiership Rugby boss Mark McCafferty.
England coach Eddie Jones has reacted to criticism from Bath owner Bruce Craig by saying clubs have no right to question his methods.
"The only way the English system works is through collaboration," said McCafferty.
"We've got to see how significant that roadblock is and find a way around it."
McCafferty says the issue will be high on the agenda at June's Professional Game Board (PGB) meeting.
"I wouldn't expect a club to say an England coach has no right to come into the club," he added.
"We've worked very hard over the past few years to try and build that level of collaboration up. Everything up to this point has been very collaborative.
"Are we concerned about injuries happening in training? Absolutely. Are we concerned about injuries happening in England training? Yes, and it's the same for club training."
A recent study found the rate of injury was on the rise across the English game, including in training, forcing administrators to launch an eight-point plan to try and make the game safer.
The Premiership clubs currently average only 30 minutes of contact training a week, and McCafferty feels it is essential Jones listens to their views when it comes to preparing and managing his England players.
"When the dust has settled and the emotion has gone out of it, we can take a bit more of an analytical view of it," McCafferty added.
"But it has to work on the basis of collaboration in England, whether it is the clubs saying to England what is happening at club level or vice-versa.
"Eddie has been very good at taking feedback, and we know he has strong views on things. All of these people, whether at club level or England level, are under varying degrees of pressure at varying times.
"I think our job as lead administrators in the game is to try and create an environment where we can look at these things rationally and logically without the heat of the moment.
"That's what the PGB is for. It will meet again in June and that will be one of the top items to be discussed there. Training injuries are something we should be able to bring down."