Edinburgh Rugby has applied for permission to build a new stadium
Last updated on .From the section Scottish Rugby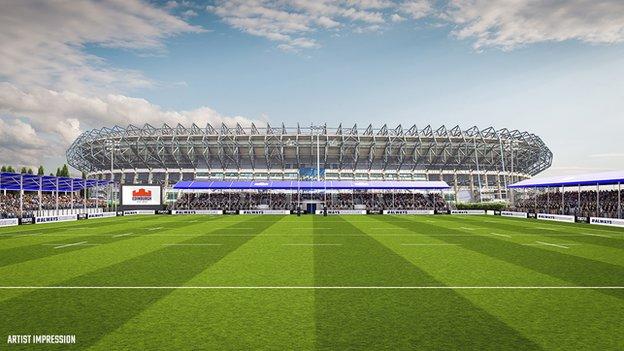 Scottish Rugby has applied for planning permission to install a new stadium for Edinburgh Rugby.
The 7,800-capacity venue next to Murrayfield will feature a new 3G surface and four covered stands.
Edinburgh will play at Murrayfield next season then move to the new stadium in 2019.
"I've said from the start that Edinburgh has a lot of potential but lacked a strong culture and identity," said head coach Richard Cockerill.
"What's exciting about this new project is that as a club we can begin to build something from. It will give us a social point, excellent facilities and chance to move the club forward, both on and off the pitch."
A detailed planning application has been submitted to City of Edinburgh Council, as the club looks to find a permanent home since leaving Myreside earlier this year.
Edinburgh Rugby committed last summer to a three-year deal to play at Myreside, but that agreement was believed to include an opt-out clause and a feasibility study was conducted into the building of a new stadium.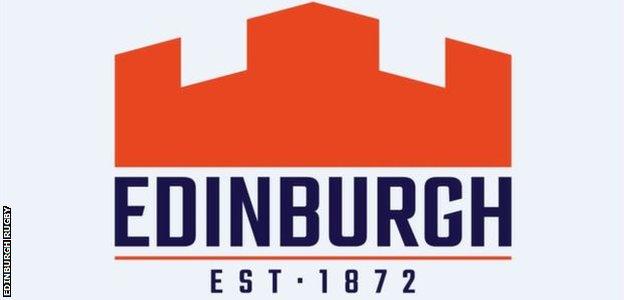 The SRU intends to make the facility open to other users from the Scottish rugby community, while it could also host other sports as well.
"After many years of exhausting all the potential stadium and playing ground options for Edinburgh in the local area, we have taken the initiative and will be investing ourselves to develop a venue that can help the team to grow and provide a great spectator experience," said Scottish rugby chief operating officer Dominic McKay.
"We are fortunate to have space within the Murrayfield campus to comfortably accommodate this planned new facility and retain practice pitches for all elements of rugby."
Edinburgh also announced a rebranding of the club, with a new badge and new colours for next season, with red on the strips being replaced by burnt orange.
"We have to have a strong identity and hopefully this is the start of what this club is going to be about - not only on the field, but off it as well," Cockerill said.
"We have to build an identity that everyone can buy into - whether that's supporters, how we play with the players we bring in, and how we train and behave.
"We've chosen a colour that's traditional, that goes back to the heritage of the team, and I'm sure our supporters can identify with that, young and old. This is what Edinburgh looks like as a rugby team and hopefully that translates into what happens on the field."