Ex-director Keith Russell says Scottish Rugby 'toxic' after winning unfair dismissal case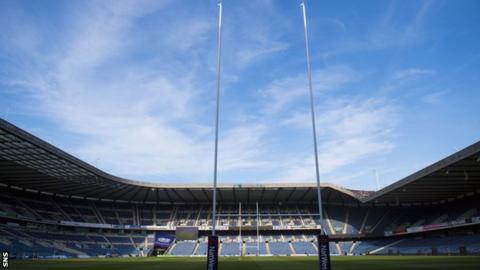 Keith Russell has described Scottish Rugby as "toxic" and lacking a strategy after winning an unfair dismissal claim against the governing body.
Russell, the father of Scotland fly-half Finn, left his post as director of domestic rugby last year.
The SRU says it will not be appealing against the judgment in his favour.
"Having done the job for just over two years, I was just kind of brought in and told that I was being dismissed," Russell told BBC Radio Scotland.
"I was sacked summarily one day. The reason that came through at the tribunal was my performance.
"It was kind of vague opinions and views of both of them as opposed to myself where I was able to prove what we were doing in domestic rugby, very clearly, very accurately and demonstrating the progress we were making across all the targets that we had."
Russell, who joined the SRU from Glasgow Life in 2015, was critical of the culture at Murrayfield Stadium.
"Once you are out of the gang and that gang of senior executives then they are not really interested in what you're doing and how you're delivering it," he told Sportsound.
"It is just you are not part of the gang any more and we can just get rid of you and they've done that to other people as well.
"So, for me, it was very important that we actually ended up in a tribunal so it became public knowledge and public information about how they treat people and how they actually create a culture within the organisation that by myself, and I think others, is described as toxic.
"That's not great for a national organisation."
Russell, whose case was highlighted by the Offside Line and the Sunday Times, claimed proper procedures had not been followed when he was sacked.
"I've been working in large organisations for long enough that you know what that process is," he said.
"You sit down, you talk to people, you try to make it clear to them what you are trying to achieve.
"And I think one of the biggest problems with Scottish Rugby at the moment is there are no plans, there are no outcomes, there are no KPIs [key performance indicators], there's no way in which performance can really be measured across the board - not just in domestic rugby."
Scottish Rugby said it would "now be reviewing the judgement in detail and working with Mr Russell to conclude the process", but its former employee did not envisage a return to Murrayfield.
"One of the items I was looking to get in the tribunal was reinstatement to the role and that is one of the things the judge didn't award in my favour," he said.
"I left a fantastic job in Glasgow to move to Edinburgh and make a difference for Scottish Rugby because it is a sport I absolutely believe in.
"I would love to still have the opportunity to do it, but with the current incumbents there that clearly isn't practicable."
A Scottish Rugby spokesperson said: "Scottish Rugby acknowledges the outcome of the tribunal and, while there are some areas of the ruling it disagrees with, there will not be an appeal.
"Scottish Rugby stands by its decision to change the leadership of the domestic rugby department given the fundamental importance this area of the sport plays in all aspects of game in Scotland."