South Africa v England: 2018 a horror show for England - Clive Woodward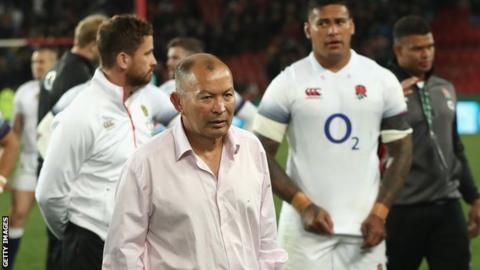 England's rugby team have had a "horror show" in 2018, says World Cup-winning former coach Sir Clive Woodward.
Woodward, whose team were crowned world champions in 2003, said Eddie Jones' side have not "progressed at the same rate" as their rivals.
England conceded five tries in a 42-39 defeat by South Africa on Saturday - a fourth consecutive Test defeat.
"Something is not right because they are normally very good defensively," said Woodward on BBC Radio 5 live.
"The bubble has burst and teams have recognised that the way to beat England is by playing an all-out fast game."
Defeat in Johannesburg follows a disappointing Six Nations campaign during which England lost three of their five matches and conceded their title to Ireland.
England led 24-3 against the Springboks before the hosts scored four tries to lead 29-27 at the interval.
'We knew England would get tired'
Woodward said the first 20 minutes of Saturday's match "was some of the best rugby I have ever seen England play".
But Jones' side faded badly - and Springboks scrum-half Faf de Klerk said the hosts always intended to prey on England's vulnerabilities at altitude.
Ellis Park stands over a mile above sea level, with the lower oxygen levels in the air making breathing more difficult.
"We knew they were going to get a bit tired on the high veldt," De Klerk said. "England were staying [at sea level] in Durban, and we wanted to take advantage."
After training all week on the coast, England only arrived in Johannesburg late on Thursday, but Jones insisted that could not have been helped.
"Most of the sports science says there is not much you can do unless you come here 10 days before, and we don't have the opportunity to do that," Jones told BBC Radio 5 live before the match.
Ben Youngs, De Klerk's opposite number, told the BBC "altitude was not a factor" and he thought England "finished the stronger side".
Youngs did, however, agree with Woodward about England's start, referring to it as "some of the best rugby we've played under Eddie".
He added: "What we did after that was, in glimpses, some of the poorest. We have to combine that 20 minutes and drag it out for 80.
"There is no doubt at all it's fixable. We are here to win a Test series, and we can still do that."