Ross Moriarty: Wales back-row given four-week ban after Argentina red card
Last updated on .From the section Welsh Rugby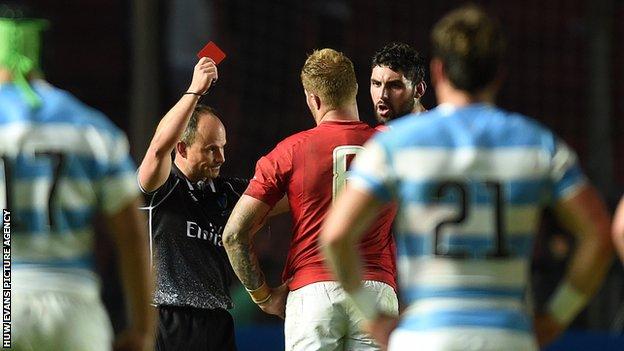 Wales number eight Ross Moriarty has been given a four-week suspension following his red card against Argentina.
Moriarty continued to hold Argentina outside-half Nicolas Sanchez around the neck, despite being told to let go by the match officials.
The back-row will be free to play in Dragons' second round Pro14 match.
Moriarty, who has joined the Gwent region from Gloucester, admitted the offence, apologised and accepted the red card.
The Independent Judicial Committee deemed the offence to be at the mid-range scale of seriousness, which has an entry point of six weeks.
The committee added an extra week because of the aggravating factor that Moriarty did not desist from his actions on the direction of the assistant referee.
Mitigating factors, including the player's immediate apology and disciplinary record, resulted in a deduction of three weeks and Moriarty was suspended for a period of four weeks.
The suspension, based on Moriarty's playing schedule, will include pre-season matches and end after Dragons' first match of the 2018-2019 Pro14 season.
The Pro14 fixtures for next season have yet to be finalised.
'Not ideal'
Dragons head coach Bernard Jackman says he he would have liked Moriarty available for the pre-season programme.
"We would have liked to have him a bit earlier for those pre-season friendly games so it is not ideal," said Jackman.
"I did not think there was that much in the incident. He was trying to protect himself after being attacked firstly and I thought he showed good restraint.
"It is done now and he has apologised for it.
"We are looking forward to getting Ross on the field so he can show the type of form he demonstrated in Argentina where he was outstanding.
"Ross showed why he is one of the most exciting back-rowers in the world and he is still so young."
Jackman says he will not try and take out the aggression out of Moriarty.
"The reason Ross is so good is he plays with such aggression and physical commitment and that is such an important element to rugby," said Jackman.
"Over the last couple of seasons he has been on the right side of things and he will learn from this.
"It is important for us to create a good environment for him to get on with just playing rugby and being the physical imposing presence he is."