Heineken Champions Cup: Vern Cotter is back and gunning for Edinburgh

By Tom English
BBC Scotland
Last updated on .From the section Scottish Rugby3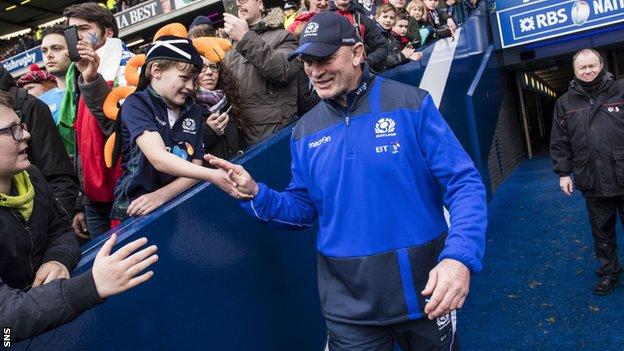 The last time Vern Cotter was at Murrayfield he was serenaded out of the place after drinking in the appreciation of the home crowd on his last day as Scotland coach. And now he's going back there.
The draw for next season's Heineken Champions Cup, mercifully featuring two Scottish teams as opposed to the one that has become the norm in recent years, has pitted Cotter's (and Nathan Hines') Montpellier against Richard Cockerill's Edinburgh. What a clash of the coaching coots that's going to be.
Montpellier are monied in a way that make the eyes water. All that lucre didn't bring them a trophy last season, though. They went all the way to the final in the Top 14 where they were expected to put away Castres, but didn't. Their performance in Europe was a failure, winning just two of six games in their pool, both of them against Glasgow. Given the riches lavished on the rugby operation, Cotter will be under a bit of heat this time around to deliver a title.
Dean Richards, a third gnarled operator in this section, has been the inspiration behind Newcastle's terrific revival. Relegated in 2012, they recorded their highest finish in 20 years in the Premiership last season. By getting fourth they made the semi-final but were well beaten by Exeter. Regardless, it was an outstanding campaign and Scotland's Chris Harris played his part in it.
What makes Newcastle's involvement in Edinburgh's group all the more intriguing is the fact that the Scottish Rugby Union have made no secret of their desire to buy a stake in the club. Mark Dodson, the chief executive at Murrayfield, is on record as saying that a partnership is something he's interested in and is pursuing. Talks seem to have stalled of late, but it's still on Murrayfield's agenda.
Toulon's quest to get back to the top
When Toulon were drawn as fourth seed you could almost hear the groans coming from Murrayfield. Having one mega-rich club to contend with is a challenge for Cockerill, but having two of them is going to make his task of Everest proportions. Cockerill, of course, is a former Toulon coach. He joined Edinburgh from Toulon having steered them to the Top 14 final in 2017. Cockerill knows the place inside out.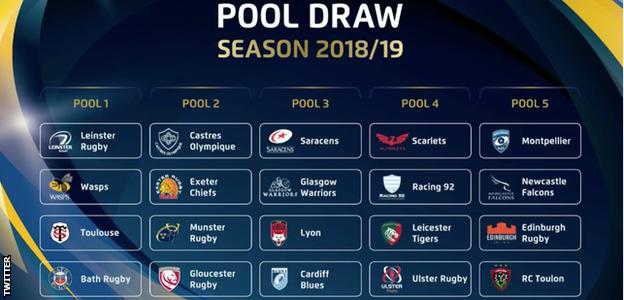 He also knows their owner, Mourad Boudjellal, the fabulously wealthy president who made his fortune in the comic-strip business and whose wealth, and his penchant for signing superstars, brought the club three successive European Cups in 2013, 2014 and 2015. They also won the French title in 2014.
Boudjellal is known for launching verbal rockets at all-comers. He's a fiery individual given to outlandish comments. Having bankrolled the club to a trophy-less last three seasons it's fair to say that his patience may be running out. When Toulon lost out to Munster in an away quarter-final of the Champions Cup last season and then got knocked out in a home quarter-final of the Top 14 against Castres Boudjellal would have been getting jittery.
For Edinburgh, this is a hugely glamorous but murderously difficult group. They'll have to win their home games, that's a necessity. Then they'll have to win at least one away from home - and possibly two. A monumental task for Cockerill especially considering he's going to be without John Barclay, his main signing, for all of the group stage.
'How good are Glasgow? We're about to find out'
Dave Rennie will feel that fate has been a little kinder. Glasgow are in with double European and reigning English champions Saracens as well as Lyon and Cardiff. That's a challenging draw as well, but it's a tad more manageable than Edinburgh's.
Saracens, of course, are the big beasts. They had a difficult European campaign last time around but they gathered themselves and came again and powered their way to another Premiership title. They remain a massively formidable force, not that Glasgow fans need any reminding of that. In 2017, in their one appearance in a European quarter-final, Gregor Townsend's team had the misfortune to be pitted against Saracens - and it wasn't pretty. Saracens won by 25 points.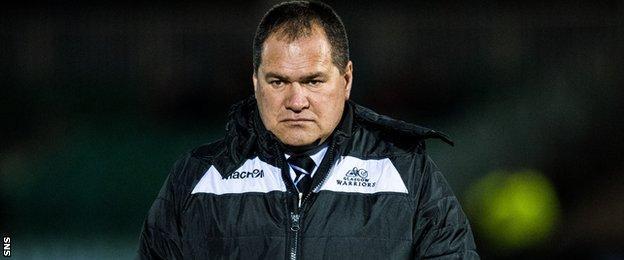 Also in the pool, Lyon, one of the fairytale stories of French rugby in recent years. They have stars, for sure, but nothing like the array of rugby galacticos that others have in the Top 14. In the league last season their home form was exceptional. Castres (the champions), Montpellier (the runners-up), Toulon (semi-finalists) and Clermont all lost in Lyon.
They finished fifth in the French championship last season and went to the semi-final where they lost to Cotter's Montpellier. This after only being promoted from the second tier in 2016. Lyon last won a domestic title in 1933, but they are an emerging force, no doubt about it.
Cardiff complete Glasgow's group. There's intrigue here as well. Cardiff won the Challenge Cup last season and this is their first appearance in the main European competition in four years. The man who brought them that trophy and their place at the top table is Danny Wilson, who is now Scotland's forwards coach. What information and insight he will have on his old club. You'd fancy that Rennie will be picking his brains in the very near future.
For Glasgow, who were such a crushing disappointment in last season's competition, this has to be a big season. Cardiff, struggling financially, will have to be beaten home and away. That's a minimum requirement. They're probably going to have to complete the double over Lyon as well given how great the challenge will be to get anything from Saracens.
At their best, it's do-able, but we don't know what Glasgow's best is like these days. The thrill will be in finding out.