Ulster Rugby: IRFU hopeful that Dan McFarland will join before January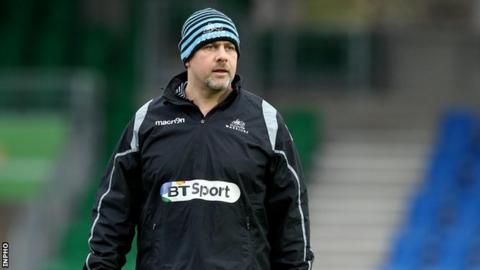 IRFU performance director David Nucifora is confident that Ulster's new head coach Dan McFarland will take up his position before January.
The current Scotland forwards coach signed a three-year contract with the province in April.
Ulster are keen for the Englishman to be in position ahead of the new season, however, the SRU say McFarland will serve out a nine-month notice period.
Nucifora added there is a "plan B" if McFarland is not available before 2019.
"Obviously we would like, and Ulster would like, for him to be there at the start of the season." Nucifora told The42.ie.
"But if he can't be, well then we'll accept that and as I say we've got something that we'll do to support Ulster.
"I think that's the worst-case scenario. Do I think it will be January? No, I don't. I think there will be a resolution before then so I am not concerned that it's going to be January," he said.
Earlier this week Danny Wilson was named as Scotland's new forwards coach, leading to suggestions McFarland's departure would be hastened.
However, the SRU once again reiterated that he would remain in position until the beginning of 2019.
Ulster's coaching set-up will have a new look by the time the 2018-19 season begins.
Jared Payne is the province's new defence coach having been forced into retirement while New Zealander Dan Soper will become assistant to McFarland.
They will also appoint a new strength and conditioning coach following the departure of Jonny Davis on Wednesday.