Sam Warburton: Wales and British & Irish Lions captain retires from rugby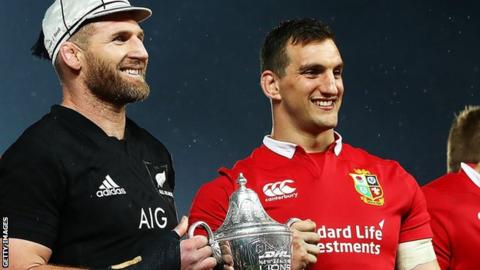 British and Irish Lions captain Sam Warburton has retired from rugby at the age of 29 after winning 79 Test caps.
The former Wales captain has not played since leading the 2017 Lions to a drawn series against New Zealand.
The back-rower recently returned to Cardiff Blues training after being sidelined for 2017-18 by knee and neck surgery.
"My body is unable to give me back what I had hoped for on my return to training," said Warburton.
In a statement announcing the decision, the Welsh Rugby Union said that following his most recent injuries it had "become clear to Warburton that he wouldn't be able to return to the high standards he has set throughout his career".
Warburton, the winner of 74 Wales and five Lions caps, added: "Unfortunately, after a long period of rest and rehabilitation the decision to retire from rugby has been made with my health and wellbeing as a priority."
Wales and Lions coach Warren Gatland said it was "hugely disappointing news".
'He should be extremely proud'
Gatland added: "He is an outstanding rugby player and he has brought so much to the game on and off the pitch.
"His leadership, attitude and demeanour along with his performances have placed Sam up there as one of the best and most respected players in the world.
"He finishes with a record that he should be extremely proud of and should look back on his career with huge pride."
That record includes leading Wales to the 2012 Six Nations and captaining the 2013 Lions to a series win over Australia - the tourists' first Test series triumph in 16 years.
The neck surgery he needed after the Lions tour was on an "ongoing" injury and the knee surgery was "proactive", according to the WRU.
Warburton added: "I cannot thank the Welsh Rugby Union and Cardiff Blues enough, who have gone beyond the call of duty, in providing the support I received to help me get back on the field, for which I will be forever grateful.
Warburton's career in numbers
74 - the number of caps Warburton won for Wales.
5 - the number of Test matches he played in for the British and Irish Lions.
49 - the record number of times Warburton captained Wales.
1 - the number of regional teams Warburton had in his professional rugby career.
22 - Warburton's age when he was appointed Wales captain ahead of the 2011 World Cup.
11 - the number of World Cup appearances Warburton made.
34 - the number of 6 Nations Championship appearances Warburton made.
12 - the number of months since Warburton last played rugby.
67 - the number of times Warburton featured in a Wales starting line-up.
Analysis
Wales rugby legend Gareth Edwards
It's been a shock to everyone, perhaps more for him than anyone else.
I wasn't expecting it. Am I surprised? The modern game, it is so physical. The hits their bodies take, I think you may see more and more players retiring earlier as the years go on.
Sam has played the game in one way; he puts his head in these dangerous places, he hasn't been afraid to play the game physically.
He'll be a loss to the Blues because he's a special player and a special captain but the most important thing is that Sam is happy with his decision and that he walks away from the game with everything ok.
'Special mention' for Gatland
Warburton was quick to pay tribute to Wales coach Gatland.
"Since I first played aged 10 at Llanishen Fach Primary School, then Whitchurch High School and Rhiwbina Juniors RFC, I always dreamed of playing for my hometown club the Cardiff Blues, Wales and the British and Irish Lions.
"To look back on my career, I'm extremely proud of what I managed to achieve.
"There are so many people who helped me along the way from schoolteachers, coaches, friends and family.
"I thank you so much for supporting my dreams and aspirations. I hope they too can take some pride from my career.
"I would like to make special mention of Warren Gatland. Without the faith he had in me and his unwavering support I would never have had the career I was able to pursue."