Sam Warburton: Gareth Edwards says retirement could prompt law changes
Last updated on .From the section Welsh Rugby102
Rugby legend Gareth Edwards believes Sam Warburton's retirement could prompt some of its tackle rules to be changed.
Ex-Wales captain Warburton retired after a year out, citing an inability to return to his peak.
"I'm just wondering whether or not the powers that be will have to reconsider the tackle in years to come," said 1970s icon Edwards.
Former Welsh Rugby Union surgeon John Fairclough also said the volume and nature of injuries need addressing.
Edwards and Warburton share a status as Wales and British and Irish Lions stars of their respective eras.
But Edwards believes the days in which he played did not pose the dangers of the modern era.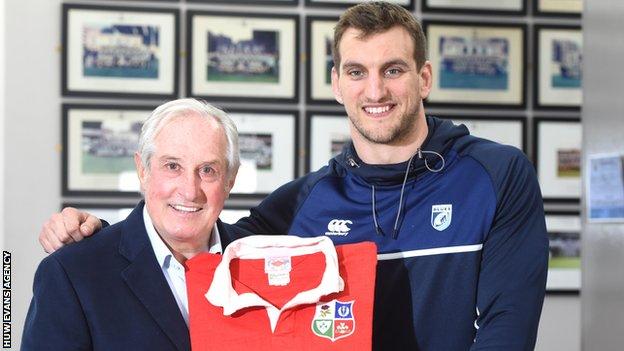 "One of the things I think which has brought all this physicality and concern a bit more, especially to the head, has been the tackle around the shoulders to dislodge the ball," the former Cardiff RFC star told BBC Radio Wales.
"But we were brought up to tackle around the hip and the game was still physical enough then, and I'm just wondering whether the powers that be will have to reconsider the tackle in years to come.
"And I'm sure it'll be parents who'll make the change and not necessarily World Rugby because they won't want their children to be hurt.
"In trying to dislodge the ball, shoulders are getting into contact with the head and so that is where possibly some of the danger lies."
WRU chairman Gareth Davies has previously raised the prospect of limiting the number of replacements in the game - eight of the 15 players can currently be replaced.
Substitutions were introduced for injuries during Edwards' career and the system has evolved to include tactical replacements.
Professor Fairclough, a knee specialist, said: "I think there has to be a conversation.

"The game I saw in the 1970s and 1980s is not the game I see now and I think that substitutions should be for injury, not for impact.
"The difficulty is there are a lot of vested interests.
"My vested interest is in trying to keep people healthy and I do think we have to look at the consequences, not just now - Sam's got to live the rest of his life from 29 onwards."
Fairclough, also speaking to BBC Radio Wales, said players who tired during games were prone to injury when coming into contact with "fresh legs".
He says such a system is akin to bringing a fresh fighter into a boxing ring to take on a tiring opponent.
"I think that the injury surveillance [in rugby] does show that's the case," said Fairclough.
"But there is also a change in the nature of the game and I'm a surgeon, I'm not a rugby official. What we are seeing is no longer a 15-man game."
Fairclough also says the nature of injuries in rugby has changed significantly with joint injuries a long-term worry.
"We're seeing more upper-limb injuries, more head injuries and as a consequence of the changing nature of rugby, the nature of the injuries has altered and the number of injuries per person," he said.
"Any injury to a joint - and most of them are joints - actually produces a problem as we get older.
"We know that if you damage, for example, the anterior cruciate knee ligament, by the time you're in your 40s and 50s you will get arthritis of your knees.
"Any contact sport where you're using your body essentially as a weapon - you're trying to make your body go through somebody else's body - is going to produce problems.
"And as we get bigger and fitter, it became a professional game and it's one of the consequences of recurrent impacts that you get more damage."
Listen to Good Morning Wales on BBC Radio Wales each weekday morning from 06:00 BST.