Jersey Reds: Championship side scrap printed matchday programmes
Last updated on .From the section Rugby Union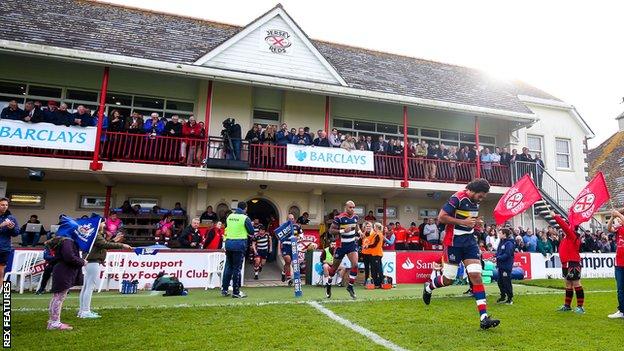 Championship side Jersey Reds have become the first professional rugby side in the UK to scrap printed matchday programmes.
The island side will instead publish their programme for free online the day before their home games.
The moves comes after the Football League approved plans for EFL clubs to do away with matchday programmes.
"It will save us a significant amount of money each year," chairman Mark Morgan told BBC Radio Jersey.
The club, which had averages attendances of just under 1,500 last season, sold "200 to 300 programmes per game" according to Morgan.
"Very few people are reading them and if you're a sponsor that has paid to be in that programme you're not getting a whole lot of coverage," he added.
"By taking it online we will release it the day before the game. It will go to 20,000 of our followers through social media for free, so we're hoping it's way of engaging with the public.
"We've got a lot of followers outside the island, so it brings them closer to the club and gives them more information about the players and the team."