GJ van Velze: Worcester Warriors captain on how he fell back in love with rugby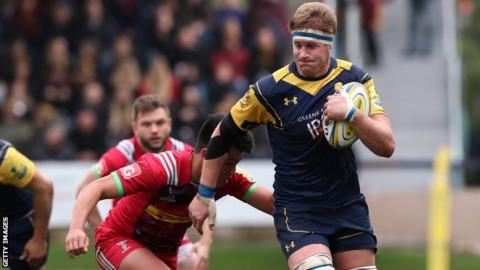 Gallagher Premiership Rugby
Dates: 31 August - 1 June Coverage: Commentary on BBC Radio 5 live, sports extra and local radio on BBC Sport website, mobile, tablet and app. Reports on all matches and live text commentary on selected games.
Worcester Warriors captain GJ van Velze will not forget his side's first game of the season two years ago - even if he maybe could not remember much about it at the time.
Up against Saracens in the showcase seasonal opener at Twickenham, the big South African number eight suffered a concussion injury.
A seemingly harmless bodycheck by Sarries flanker Michael Rhodes at a ruck left him with a "throbbing headache", medical advice to do nothing for a month and, eventually, the rest of the season off.
It was not until June 2017 before he satisfied the medics, passed his concussion tests and was allowed to report for first-team duty again.
Now, more than a year on, after making a successful return to action last season under the leadership of the now retired Donncha O'Callaghan, he is back installed as Warriors captain for this weekend's opening fixture at home to Wasps
With a renewed love of not only rugby, but life itself, he is determined not to hold anything back.
'Not many get a second shot'
"You go through a stage where you think 'Is that it? Am I done?' I'm very lucky," said the 30-year-old from the South African province now known as Mpumalanga, which, in young Gerrit-Jan's childhood, was known as Eastern Transvaal.
"Not too many people get a second shot at it.
"It was all tough for my wife. It was the first time I've ever experienced a long-term injury and the mental side of that. The lack of what we know about concussion was the difficult part, the mixed messages.
"I'd lie if I said, in those first games when I came back, that I was 100%. It's human nature.
"There'd be times when I'd be thinking 'Is that normal?' Then you go into a snowball effect where you start questioning everything. 'This headache I'm waking up with - is it because there's something wrong? Or simply because of a lack of water and I'm dehydrated?'
"But I wouldn't say I'd made a conscious decision of not doing something on the field because I'm concerned about my health. In the end, I played a high number of games last year and it was almost like falling in love again with rugby.
"This sport's only getting more physical. Bigger people are playing it so we have to look after players, we have a responsibility across the world.
"Having said that, we can't wrap everybody up in cotton wool. What we do is not normal. Especially at a professional level, it's not normal. But there's a reason why we do it. It's what we get back from it. We do it because we love it."
The O'Callaghan effect
Van Velze's path back to full-time professional rugby was helped by the love and support of his wife and family, not to mention his club, especially the time put in by former Warriors head of medical Julie Hayton.
But, of all the workmates to help him the most, he pinpoints the influence of former Ireland international O'Callaghan, finally now retired at 39, after rounding off his illustrious career with three seasons at Sixways.
"I both enjoyed and learned a lot last year playing under Donncha," he said. "An exceptional rugby player. And an even better bloke.
"It was remarkable the effect he had in such a short space of time. But to know he's only a phone call away is nice.
"Credit to the club, and to Julie Hayton in particular. But what I most picked up from Donncha was the way I had to change a bit of my lifestyle. I had to place a lot more emphasis on recovery.
"The injury did force me to look at the way I play a bit, mostly in terms of when I get fatigued and making sure I don't get into the wrong positions. When you're a bit younger, you might get away with it."
Consistency is Warriors' key
Rumours still suggest that Warriors, who have officially been up for sale for a year, and open to offers for a lot longer, will soon have new owners.
But, while current owner Greg Allen's search for new investment in Sixways might be set to come to an end, Van Velze is insistent, as he prepares to embark on his fifth season at the club, that spirits have never been as high as they are now under director of rugby Alan Solomons - and his new assistant Rory Duncan.
After encouragingly finishing ninth in 2004-05, then eighth in 2005-06, in their first two seasons in the Premiership following promotion, Warriors have under achieved.
In their 10 seasons in the top flight since, they have never come higher than 10th, which they have done three times, as well as being relegated twice and finishing 11th five times - the most recent of those in May.
But, following a season in which they won at both Leicester and champions Exeter for the first time, Van Velze knows the key to their hopes this season is ensuring any further such quality displays are not one-offs.
"That's the beauty of the Premiership," he said. "It's so tough. But our true challenge is consistency. A lot of that comes from desire and whether we are prepared to work hard for what we want to achieve.
"But there is now a great synergy with management, which maybe we've lacked over the years. And there is a very good feel about how we might go this season.
"Personally, I now take nothing for granted. All I know is that what I went through made me a better person and the fact that I'm back in a leadership role makes me very happy and hopeful too."