Cardiff 'makes sense' as Pro14 final location - Martin Anayi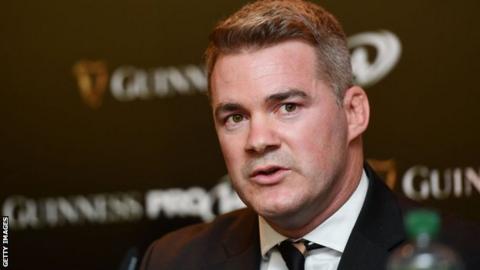 Pro14 chief executive Martin Anayi says he would like to see the final held in Cardiff.
The Welsh capital has never hosted the league's showpiece event in the regional era, with the 2019 final being held at Glasgow's Celtic Park.
Since 2015, when the venue for the final was chosen in advance, two finals have been held in Dublin, one in Edinburgh and one in Belfast.
"Absolutely we do want a final in Cardiff and Wales," said Anayi.
"We really want that to happen. It's a slight anomaly that it hasn't happened before."
Cardiff hosted the 2003 final between Neath and Munster at what was then named the Millennium Stadium, which the Irish province won.
However, there has been no finale held in Wales since the inception of regional rugby in 2003.
Before 2015, the venue for the Pro12 final was staged at the highest ranked side from the league out of the two teams competing for silverware.
Each time a Welsh region qualified for the final they were out-ranked and the final was not held in Wales.
Should the final be held in Wales, it would take most likely place at Principality Stadium in Cardiff, which has hosted world title boxing fights and sold-out concerts.
"Cardiff have been very close to hosting a final, but there have been other events that have taken priority in the calendar for one reason or another," said Anayi.
"There are a lot of reasons why Cardiff would make sense."