Joel Dudley: Jersey Reds' longest-serving player forced to retire due to ill health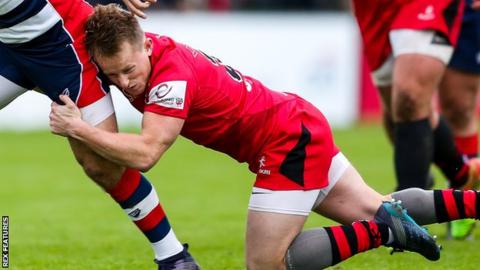 Jersey Reds' longest-serving player Joel Dudley has had to retire, aged 26.
The scrum-half - who joined ahead of their first season in the Championship in 2012 - has been diagnosed with a blood clot on his lung.
"This is devastating news for Joel and for the club," said Jersey Reds head coach Harvey Biljon.
"He's been a popular member of the squad throughout his time here and had become one of our senior and most-respected players."
Biljon added: "He's only in his mid-twenties and should have had many seasons of rugby ahead of him."
Dudley had been forced to take anti-coagulant medication to thin his blood following a bout of Deep Vein Thrombosis in 2012, and was warned at the time that he should no longer play rugby.
"We hope that he can remain involved in rugby and will be considering how we can acknowledge his years of service in an appropriate fashion," added chairman Mark Morgan.