England Rugby Sevens: RFU to integrate men's and women's programmes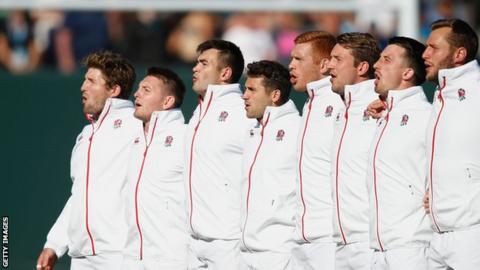 The Rugby Football Union is to integrate its men's and women's sevens programmes in order to create a "strong culture and identity".
The women's squad will move from their present base at Bisham Abbey to join the men at England's High Performance Centre at The Lensbury in Teddington.
The move will allow the squads to "share facilities and best practice".
"The men and women can learn so much from each other," said Simon Amor, head of England Sevens and men's head coach.
"This sharing of knowledge is so important to us as we continue to challenge each other to be the very best that we can be."
The 2018-19 season is the qualifying season for the Tokyo 2020 Olympics, with both squads set to compete in the Rugby Europe Sevens Grand Prix Series and the World Rugby Sevens Series.
As part of the integration, Charlie Hayter and James Rodwell will become player-coaches and will work with both squads, while former England Sevens captain John Brake rejoins the programme as academy manager and a men's and women's coach.
"Charlie and James' understanding of the sevens game in their respective areas is world class," Amor added.
"The opportunity to develop them as individuals on and off the field, and to further enhance the integration of the men's and women's squads, will bring great benefit to the programme."