Cornish Pirates: How the most remote team on the UK mainland keeps going
By Brent Pilnick
BBC Sport, Penzance
Last updated on .From the section English Rugby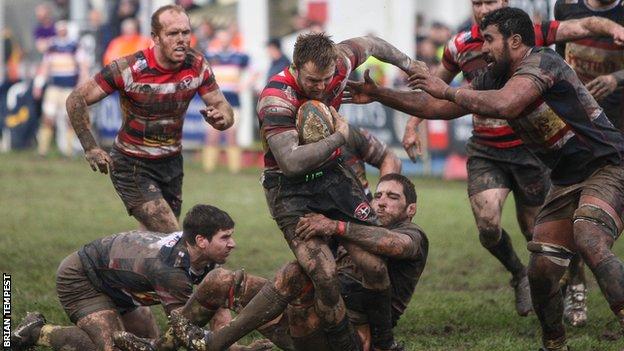 "It wasn't that long ago that I had to take someone's window out so we could get their sofa into the house."
Not the sort of thing you expect to hear from the coach of a professional sports team but then again, the Cornish Pirates are not your average team.
No side on the UK mainland is further away from their nearest rivals than the Penzance-based club and it leads to a unique rugby culture in West Cornwall.
The Pirates are 222 miles away from Hartpury - their 'local derby' - although Jersey is geographically closer but their away day to the Channel Islands involves either a flight or a boat trip.
Joint-head coach Alan Paver, who also doubles up as a part-time glazier and removal man, said: "We are isolated away from everywhere else, so we are reliant on each other.
"It's not like they can just go home to Manchester or Leeds or London every day. They can go a month or two months at a time without seeing friends and family.
"We're very reliant on each other, so we've got to make sure we pick the right character and then when they get here, we've got to make sure we give them the right support and nine times out of 10 they flourish with that."
City-dwellers need not apply
Penzance has a population of just over 21,000 and the fishing town is also the end of Brunel's Great Western railway line.
If you are someone who likes the tube, regular big-name concerts or trips to designer shops, it probably is not the place for you.
"We've got a lot of local boys involved nowadays which has really revitalised the club and given us more of an identity," says Gavin Cattle - the ying to Paver's yang on the Pirates' coaching team.
"It's recruiting boys from the outside to strengthen us who fit in with our values. The likes of Callum Patterson - he's an Irishman, a farmer, he's used to the countryside, he comes down here and the environment doesn't feel foreign to him.
"It's the same with the Kiwis, Jake Ashby's from a similar background of maybe being isolated in a location.
"We're careful with who we recruit. It does pigeon-hole a few people and does restrict a few things, but I do believe that's our strength as well."
Making ends meet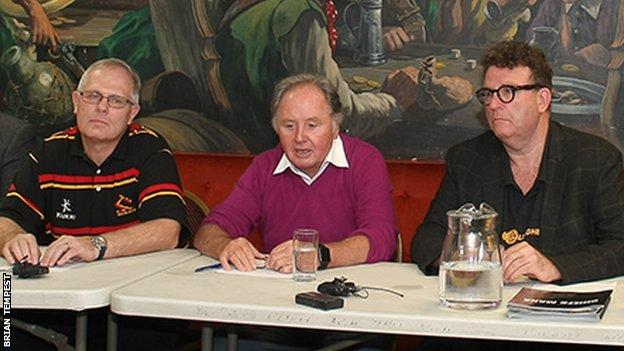 The Championship - English rugby union's second tier - has had its fair share of financial disasters.
London Welsh disappeared altogether after going bust in 2017, Jersey had to sell off their ground last year while Nottingham and former Championship side Plymouth Albion have also had money problems.
So, how do you make ends meet when you are so far away from everywhere else?
"Most clubs, and I include Premiership clubs as well as many of the Championship clubs, rely on our investors, that's just the way it is and we have to plan for that," said chairman Paul Durkin.
"What we have tried to do, and we are doing, is looking forward and trying to turn this into a business through the Stadium for Cornwall where we'll have the business side of operations which will then fund rugby."
The plan is for the club to relocate around 25 miles up the A30 to Truro and share a stadium with the city's football team and the local further education college.
It is hoped they can emulate their nearest Premiership club Exeter Chiefs, who have a thriving conferencing business at Sandy Park which has helped the club become the only one in the top flight to make a profit.
"You have to own your own ground, that's absolutely key," continued Durkin. "You need to attract supporters to pay through the gates and the third is that secondary income through other parts of the business.
"It's putting that alongside the rugby and building a squad that will be successful and that's not easy, it's a juggling act."
The Pirates family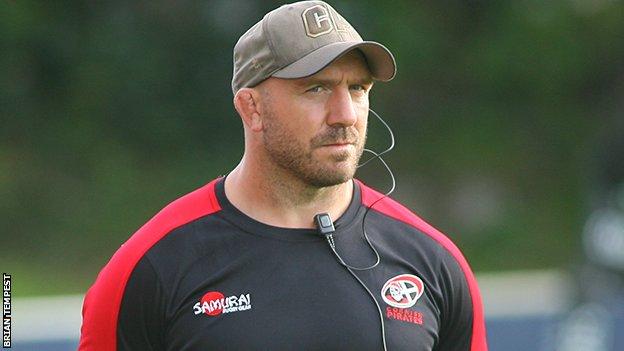 Paver, whose strong Yorkshire accent has not been blunted by 16 years in Cornwall, added: "Very quickly all the players realise that we are a family at the end of the peninsula.
"What you find is they're not trying to escape here, it's not like 'it's three o'clock, we're going home'. They really feel comfortable here in the environment and with a small amount of resource we're able to do big things here."
And it's not just windows and sofas that people have mucked in with.
"It's not uncommon for us to have a lot of hand-me-down washing machines and fridge freezers," Paver joked.
"Every now and again something will go missing and one of the young lads has had to sell it for his night out or whatever.
"It is fun, it's groundhog day because when they come it's the same things over and over, 'how do I register with a doctor?', for the foreigners 'I need a bank account' and for the guys coming down with the family 'how do I get my settee up these tiny little cottage steps?'"
View on the season ahead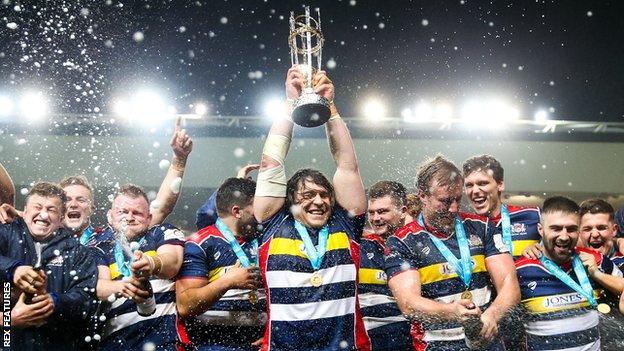 The result of the Championship in most seasons in a foregone conclusion - the team relegated from the top tier the season before inevitably bounces straight back. Only Exeter in 2010, London Welsh in 2012 and Bristol in 2016 have bucked the trend.
How well can the Pirates do in a league where London Irish will be the strong favourites and well-financed Ealing seem to be their biggest rivals?
"It's just continuous improvement for us, putting a league status on it would be foolish because of injury and the availability of dual-registered players," says Welshman Cattle.
"But we've got a good core of boys, we know with a good bill of health we can compete with most teams in the Championship, if not every team."
After a fourth-placed finish last season, Paver is a bit more candid.
"I do think we are capable of maybe going a position better," he said. "I think that if we get it right at the beginning of the season we could carry momentum through.
"There is no doubt that we are going to hit a tricky spell. But we know what that's like mentally and we know how to get out of that, so if we get in a tricky situation we know exactly what to do, we've got the experience."