Cornell du Preez: Worcester Warriors forward has surgery after throat injury
Last updated on .From the section Rugby Union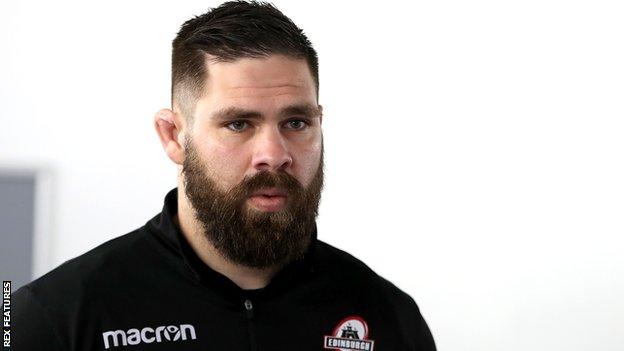 Worcester back-row forward Cornell du Preez requires "further surgery" on his larynx after taking a blow to the throat in Saturday's defeat by Wasps.
The Scotland international, 27, was taken to hospital amid concerns of a fractured larynx on Saturday and has since undergone treatment.
Du Preez lasted just five minutes of his debut, following his summer move from Pro14 side Edinburgh.
"Cornell is stable and resting in hospital," the club posted on Twitter.
"Further surgery will be required to his larynx. The club is providing full support for Cornell and his family and wishes him a speedy recovery."
What is the larynx?
The larynx is the technical term for what is often referred to as the voicebox in our throats.
"It is a small, hollow tube which sit at the top of our windpipe and anchored to the bone that's connected to our tongue," the BBC Future website says.
"The voicebox is made of cartilage - just like the pliant tip of your nose, or the flexible material in your kneecaps - and contains small bands of tissue that can expand and contract.
"That tissue pulls together, and the air rushing through it causes the bands to vibrate. When that happens you get sound."
The fracturing of this pipe can be a problem, and not just for our ability to speak, as it can cause airway blockages and this is why Du Preez's injury was treated as an emergency.