John Cooney: Ireland scrum-half on positivity, pressure and becoming Ulster's talisman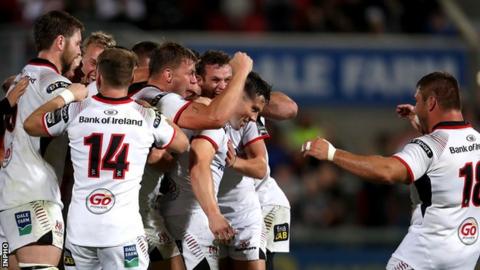 If Ulster's first two games of the new Pro14 are a measure of the year ahead, John Cooney is in for one wild season.
Two last-minute wins via two last-gasp kicks by the diminutive scrum-half have given the province a much-needed lift at the dawn of the Dan McFarland era.
Most players would hide away from the pressure of winning or losing the day for his team but those are exactly the moments that Cooney plays the game for.
"I practise so much for those chances, to get that kick," said Cooney.
"It's like anything, you train your brain and if you can learn to thrive in those circumstances you're going to be sweating and feeling the nerves.
"But people have been in those scenarios and they've performed under that pressure before so why can't I?
"When I'm practicing my kicking with nobody around I'll be telling myself that it's 14-12 during a game and I need to get this kick to win, so I practice that so much that I actually want those opportunities."
Now into his second season at Kingspan Stadium, the 28-year-old is fast becoming the new hero around Ravenhill.
The Dublin native has followed a meandering path to Belfast, winning the 2012 European Cup in his debut season at Leinster before moving west to Connacht in search of game time and starring in their historic Pro12 victory in 2016.
Tasked with replacing the much-loved South African Ruan Pienaar at Ulster, he arrived to a rather lukewarm reception.
However he quickly endeared himself to the Ulster faithful, rising to the challenge despite the departures of director of rugby Les Kiss and his successor Jono Gibbes as well as the chaos that threatened to consume the club off the field.
"The first few games I was basically crawling off the field but I just tried to give everything I could, get better each week and give back to the crowd because the fans are incredible here. I just tried to keep playing my game."
"I knew I wasn't going to be a Ruan Pienaar, I'm not exactly in his mould as a player, but I just wanted to be John Cooney and I wanted to try and play my own game."
In his debut season, and despite all the chaos around him, he led Ulster in points scoring and try assists before sweeping the board during their end-of-season awards.
"On reflection, I was a bit annoyed last season with how critical some people were because we lost as many games in the league as Munster did (seven)," added Cooney.
"It was just annoying the way people kind of forgot how much we came together. Any club that loses two coaches in one season and whatever off-field distractions were going on, it has a huge impact on the team.
"It's pretty hard when you have to go through even a slight coaching change during a season and we finished our last five games unbeaten and it just reflects the character of the squad.
"We felt like it was just us against everyone at the end of the season and it annoys me that people don't really take the positives that were there from last season."
His success last season has already been rewarded with a new contract at Ulster, and Cooney has designs on extending his stay in Belfast beyond that again.
The fulfilment he has found at Ulster can be traced back to one of the lowest points of his career when he was trying to cope with injuries and a loss of form at Connacht.
He sought out a counsellor and learned the power of talking through his problems and taking a positive approach to life. He now keeps a diary and frequently watches videos of NBA-legend Kobe Bryant and former American college footballer Inky Johnson giving motivational speeches.
"It's something that is neglected and something that I've definitely improved on throughout the years and something I actively try and work on every day now," he said.
"I try and set my mindset every morning, I might watch videos or just look at something that gives me perspective in the mornings and that sets me up for the rest of the day and gets me to attack the day.
"It's something that I've worked on hugely and something which has made a big difference to my rugby and my everyday happiness."
If 'happy players make for better players' sounds like a cliche, Cooney is proof that a positive attitude can deliver tangible results.
Standing over his last-minute penalty against Scarlets on the opening night of the new season, is a perfect example.
He had missed another, more difficult kick just minutes earlier but, with his team trailing 13-12, he never doubted they would win.
"A lot of the time last season, what I had seen in my mind was happening out on the pitch," he added.
"Against Scarlets, I don't know why, but for some reason after missing the last kick I just didn't think we were losing the game. I just knew we were going to win - and we did!"