Gavin Henson: Dragons send playmaker to see specialist over knee injury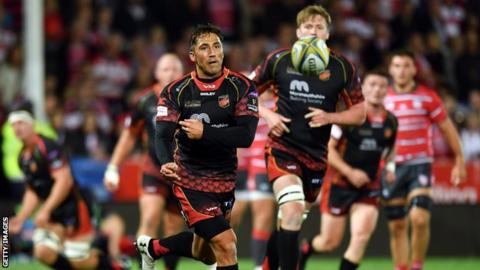 Dragons fly-half Gavin Henson has been sent to see a specialist due to a persistent knee injury.
Henson is joined on the sidelines by Wales centre Tyler Morgan, who is out until October with a hamstring injury.
Wales and British and Irish Lions fly-half or centre Henson, 36, suffered a recurrence of his injury in Dragons' season opening loss with Benetton.
"Unfortunately it hasn't settled down the way we would have liked," Dragons coach Bernard Jackman said.
"His knee keeps swelling up, after Treviso [Benetton] the swelling did not go down.
"It's round three this week and we can't afford to have one of our players constantly getting treatment on an injury like that.
"Sometimes it blows up, you get the fluid out and it settles down but for him it's come back and he is seeing a specialist. We will know more when we get the report.
"It doesn't seem to be really serious but if we don't manage it properly now then it's one of those injuries that could become a constant issue for him. We can't afford to take any risks with someone like him. We are waiting for the best medical advice.
"We hope we get a positive report... but we are kind of in the dark about it."
Morgan, who was hurt in training, will undergo a scan but Jackman is optimistic he will not miss too much time.
"Hopefully it will only be three to four weeks," he added.
"It's disappointing for him but it is a low, grade-two strain then it's a hell of a lot better than the other injuries that he has had.... he should be back in mid-October, he should be back quickly and hopefully gets a good run."
Morgan, 23, missed much of last season with first an ankle injury and then a hairline foot fracture that required surgery.