Cardiff Blues v Glasgow Warriors kit clash: Champions Cup organisers to apologise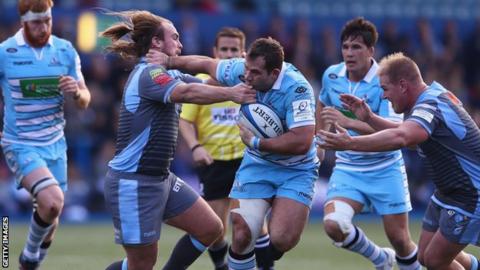 European Champions Cup organisers will apologise to Cardiff Blues and Glasgow Warriors over the kit clash during Sunday's game in the Welsh capital.
Blues fly-half Gareth Anscombe said the situation was an "out-and-out disgrace".
Glasgow wore a marginally lighter blue strip as they won 29-12 at Arms Park.
A statement from Champions Cup organisers said they would be formally contacting both Cardiff Blues and Glasgow Warriors to apologise.
The response from European Professional Club Rugby added it "has procedures in place for ensuring that playing kits for matches in its tournaments are distinctive, however, these procedures were not sufficiently followed through" for the game.
Anscombe, 27, was scathing in his post-match assessment, saying: "I have never come across that in my eight years of playing rugby.
"Who is making those decisions? It's a joke."
Cardiff coach John Mulvihill said: "We complained before the game about the jerseys. The jerseys were exactly the same colour.
"It would have been an absolute nightmare for the referee, an absolute nightmare for the assistant referees, and running into that sun in that first half the boys couldn't differentiate who was their team-mate and who wasn't. It was ridiculous."
Under tournament rules, teams must submit two kit designs to governing body European Professional Club Rugby before the start of the competition.
Two weeks before each match, officials tell the sides which strip they will be wearing.
"The kit data gets sent in and they looked at the colours and said there was no clash," said Glasgow coach Dave Rennie after Sunday's game.
"I'm not sure about that, and we would have been more than happy to bring our black kit along."
A longstanding rugby tradition is that the home side change into their second kit if there is a clash of colours.
Anscombe said: "We told the referee and the touch judges early on.
"They told us it was down to the home team to change jerseys, but I don't think that's fair."