Matt Dawson: Corne Krige sorry for 2002 high tackle on England scrum-half
Last updated on .From the section Rugby Union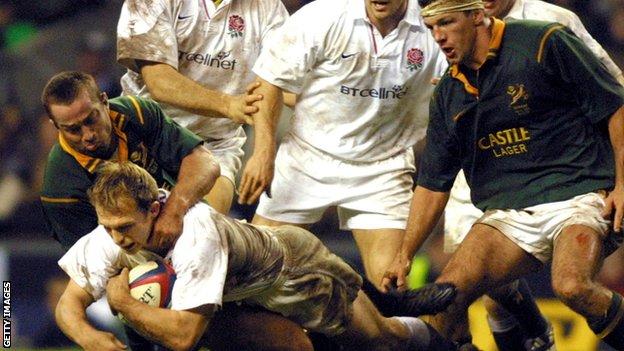 Former Springbok captain Corne Krige has apologised for a brutal high tackle on England scrum-half Matt Dawson, 16 years after the match.
Footage of Krige's tackle resurfaced on social media, prompting Dawson to say he had been "knocked into the next day" and that he feared for his long-term health because of such tackles.
"My sincere apologies. I was and am ashamed of my behaviour that day," said Krige.
"Hope my kids never see the video."
The tackle came in the 53rd minute of South Africa's 55-3 defeat at Twickenham in 2002.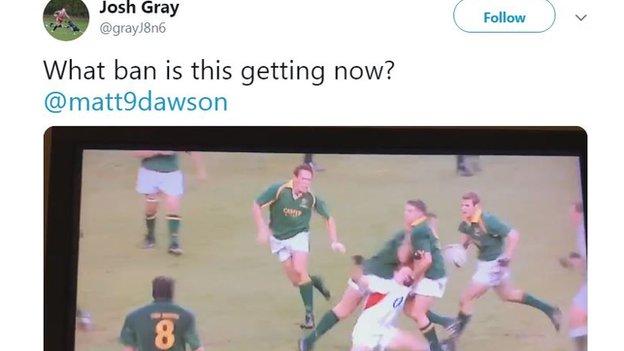 Dawson added that he could not remember the incident and that he played on for "10 to 15 minutes calling all my club moves", rather than England ones.
The Springboks had been playing with 14 men from the 23rd-minute mark after second row Jannes Labuschagne was sent off for a late tackle on fly-half Jonny Wilkinson.
England were also awarded a penalty try for a high tackle by Werner Greeff on Phil Christophers in the second half.
England's coaching staff were critical of South Africa's tactics after the match.
England's assistant coach Phil Larder accused the Springboks of going "a mile over the line" while head coach Sir Clive Woodward said that "in the cold light of day everybody in the game has got to look at what went on".
World Rugby has increased the punishment for tacklers making contact with an opponent's head in recent years, with this season's second-tier Championship Cup played under experimental rules banning any tackle above the level of the armpit.