Ulster flanker Chris Henry retires from rugby
Last updated on .From the section Irish Rugby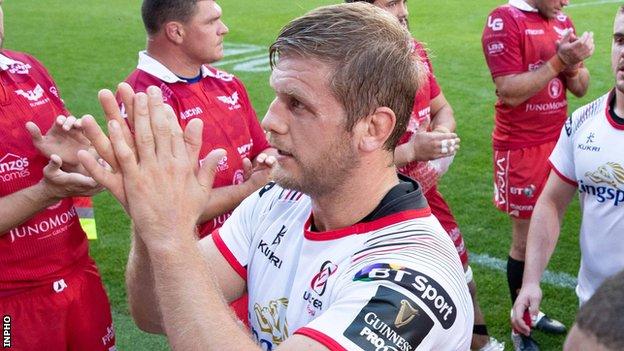 Ulster's former Ireland flanker Chris Henry has announced his retirement from rugby union at the age of 34.
Henry played 184 times for Ulster after his debut against Harlequins in January 2009, making his final appearance against the Scarlets in September.
Henry made his Ireland debut against Australia in June 2010 and went on to earn 24 caps.
"My career has physically taken its toll and so, for my wellbeing, I will be retiring immediately," said Henry.
The back-rower is the third Ulster forward to announce his retirement in recent weeks, following the news that both Peter Browne and Jean Deysel were quitting the game.
Henry is currently celebrating his Testimonial Year in recognition of 10 seasons of service to Ulster Rugby.
He played for Malone RFC, Wallace HS and Ballymena RFC, before earning provincial and international honours, and has recently been turning out for Malone again.
'Right time to retire'
"After a great deal of thought and in-depth discussions with family and friends, I believe that now is the right time to retire from the game I love," explained Henry in an open letter published by Ulster Rugby.
"No matter how much I would love to finish the season with this talented group, my career has taken its toll physically, and so for the wellbeing of myself, my loving wife and my family, I will be retiring immediately.
"I am incredibly proud to be a one-club man, and I want to thank Ulster for giving me the chance to achieve my dream.
"The honour of putting on the white and green jersey is something I will always cherish. I feel incredibly lucky and privileged to have travelled all around the world doing what I love."
'A fantastic ambassador'
Ulster's Operations Director Bryn Cunningham described Henry as "a fantastic ambassador for Ulster Rugby, who represents all of what we stand for as an organisation".
He said: "As a proud Ulster man, not only has Chris given everything for the shirt, but he has also added real value to the local community. From the relationship he has with our supporters, to coaching at Malone RFC, to his charity work, he has given back more than he has got out of the game.
"Chris has been a great player and a superb leader, who has supported the development of younger players in our squad.
"He has overcome significant setbacks throughout his career and that is testament to his strength of character."