Johnny Sexton: Fly-half named Ireland Player of the Year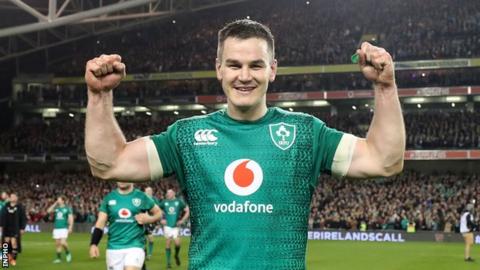 Ireland and Leinster fly-half Johnny Sexton has been named the Rugby Writers of Ireland Player of the Year.
The 33-year-old was rewarded for his role in an incredible season of success with both club and country.
Claire Molloy won the Women's Player of the Year for a second year in a row.
The Ireland men's side was named the Team of the Year while former internationals John O'Driscoll and Gerry 'Ginger' McLoughlin were inducted into the Hall of Fame.
Sexton was a key figure in the Grand Slam-winning Irish team that have risen to second in the world after a first series win in Australia since 1979 and the autumn Test defeat of New Zealand.
He is also shortlisted for the World Rugby Player of the Year award, which is announced on Sunday.
'Atmosphere like nothing I've experienced'
"Beating New Zealand was the highlight," said Sexton.
"It felt like a final because it was the last Ireland match of the year for a lot of us and it was against the best team.
"The atmosphere was like something I have never experienced before and I am not sure I ever will.
"It was just incredible from the start of the day to the end of it. We finished it off in style so it was a good night all round."
The playmaker also helped Leinster to a European and Pro14 double as the province was named as the Club of the Year at the awards ceremony at the Aviva Stadium in Dublin.
"It's a very prestigious award to win in Ireland," added Sexton.
"You look at the list of players that have won it before, it's very pleasing that your efforts can be acknowledged.
"It could have gone to many, many players with the season we had in this country, I can think of six or seven lads just off the top of my head, so I'm very happy to have been chosen."
The Tom Rooney Award, which is awarded to a person or club who have made a significant contribution to rugby, was awarded to the Lansdowne club, which won every competition they entered at senior level in the 2017-18 season.