Nic White: Exeter scrum-half still has Australia ambitions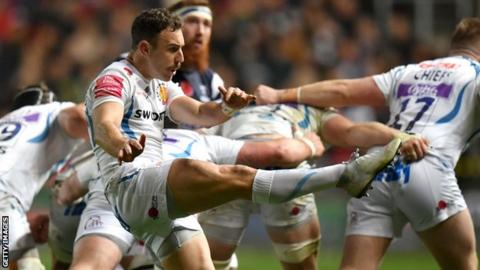 Exeter scrum-half Nic White says he has not given up hope of making a return to the Australia side.
White, who is in his second season at Sandy Park, won 22 caps for the Wallabies before he left the Brumbies for Montpellier in 2015.
"I'm only 28, I think I'm getting better with every game," said White, who is not eligible to be picked by Australia because he plays in Europe.
"I haven't closed the door, but they're decisions that aren't up to me."
He told BBC Radio Devon: "I'm learning here, I'm loving my rugby here, I love living in Exeter, so they're all positives and I'll just come across that bridge when I get to it."
Under Australia's current policy, European-based players will only be considered for selection, if they have won 60 Test caps and have previously played in Australia for at least seven years.
White spent just four years with the Canberra-based Brumbies before moving to France.
"It was tough, when I look back on it I was young and may have left a little early,"he said.
"But coming overseas was always my destiny, I knew that from a young age that I wanted to come over and play up north.
"I've found my right place in terms of off the field and on the field, I think I've really found a home that really suits me and my family."
White has been an influential figure since joining Exeter, helping them to their third successive Premiership final in May as the Chiefs topped the Premiership table for the first time.
And when his compatriots take the field against England at Twickenham on Saturday, shortly after his side's Premiership clash with Gloucester, White will be an interested spectator.
"There will be a lot of banter, there has been already," he said.
"I'll be surrounded by Englishmen and watching it, so it could be a really good day or a tough one for me.
"I love Australia and I want us to win desperately, but at the moment we've got a lot of Exeter Chiefs players up there playing for England. I want those players to do well, but obviously I want the Wallabies to win."