Wales Women: Rowland and Carys Phillips on rugby and family time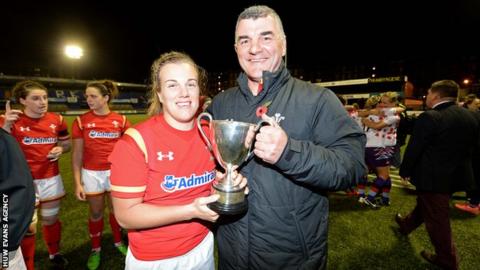 Women's autumn international: Wales v Canada
Venue: Cardiff Arms Park Date: Saturday, 24 November Kick-off: 11:30 GMT
When not bickering over who has had the best international career, it is fair to say Rowland and Carys Phillips make a pretty good team.
With rugby running rich through their veins, it is hardly surprising the father and daughter duo crossed paths in 2016 when Rowland took over as Wales Women head coach.
With Carys as captain, they aim to drive forward the standard of the women's game in Wales.
They also enjoy their "family time."
Although former dual code international Rowland admits to finding it difficult to switch off when they are away from camp.
"I'm always 'what do you think of this or how did you enjoy that'", he said.
"Carys finds it a lot easier because she disappears at about six o'clock to go to bed.
"My career from the age of 25 to 53 has just been about rugby, so I haven't got anything else to talk about," added Phillips, whose wife Sally is the daughter of 1960s Wales international Brian Thomas.
While enjoying a "good professional relationship" as coach and captain, Carys said they also enjoy their family time.
"I'm never moving," she joked.
"It's great to be able to look back and see that we shared these special moments together," she said.
But the working relationship was not always as seamless as it is today.
"I remember when we started... our first game was Scotland and we were in camp for a two day lead into the game," Rowland recalled.
"The first time we didn't speak to each other, we just walked along the corridor. We were so conscious of what everybody else was saying.
"We talk a little more now... it's just getting the balance right."
Wales finished seventh in last year's Women's World Cup, and secured qualification to the 2021 tournament.
But a disappointing 2018 Six Nations followed, prompting a revamp of the regional programme which paid dividends in the recent internationals with victories over South Africa and Hong Kong.
And now it is not only Wales' men who are going for an autumn Test clean sweep, the women are looking to end their campaign unbeaten against one of the world's top ranked women's teams, Canada.
When asked who is the better rugby player, Carys immediately replied "me!" - something her father conceded.
"Statistically between the two of us we've got 53 caps, Carys has 43 and I've got 10, but it's a different game nowadays," he said.
"It's been my life and it's more or less been Carys' life."
But Rowland added: "It's not about me or Carys , that's not in the equation, it just happens to be a coincidence.
"We're here to improve the standard of Welsh women's rugby and as a coach and captain we got two important roles."