Dave Rennie: Glasgow Warriors head coach set to sign new deal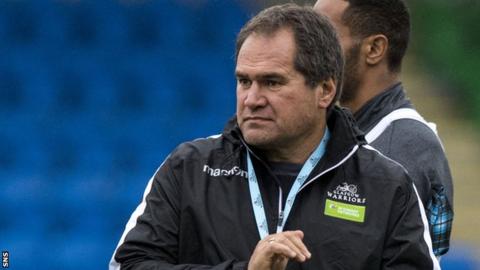 Glasgow head coach Dave Rennie says he will "definitely" be at the club next year as he finalises a new contract.
The New Zealander, in his second year with the Warriors after succeeding Gregor Townsend, is out of contract at the end of the season.
But the 55-year-old said he will remain in Glasgow for "at least another 12 months, put it that way".
"We've pretty much sorted everything. It's just a case of sorting the paperwork out now," he told reporters.
"From a contracting point of view with the players, everyone wants clarity about what things are going to look like next year, hence the reason we've been keen to get things sorted.
"There are still a few things to sort out, but I'll definitely be here next year. We've been in discussions for a long time.
"I'm really enjoying it here. As I've mentioned many times in the past, they're good people so I'm keen to stay longer."
Rennie has to deal with a host of players coming out of contract in the summer, with Huw Jones linked with a move to Leicester Tigers this week.
Scotland start Stuart Hogg has already confirmed he will be joining Exeter, but Rennie is confident fly-half Adam Hastings will stay at Scotstoun after a breakthrough season.
"There are a number of guys who have offers in front of them," he added. "There will be the odd guy leaving. But all I will say is that we are keen to keep Adam here and he is keen to stay,"