England v Australia: Jamie George & Dylan Hartley vie for start spot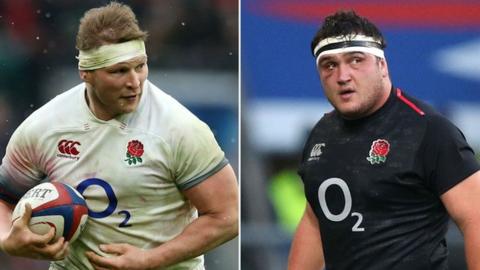 England v Australia
Venue: Twickenham Date: Saturday, 24 November Kick-off: 15:00 GMT
Coverage: Live on BBC Radio 5 live with BBC Two highlights at 19:30 GMT
The all-court, all-action, free-running Jamie George? Or co-captain Dylan Hartley, the grizzled master of the tight and set piece?
The caricature of England's options at hooker is perhaps exaggerated, but reflects a real difference in the pair's styles of play.
This weekend is the first time, with both players at his disposal and Tier One opposition in the other dressing room, that England coach Eddie Jones has opted for George over Hartley in his starting XV.
Of George's previous six starts for his country, four have come when Hartley has been unavailable. The other two were against Samoa and Japan, when head coach Jones has been experimenting and rotating.
So how significant is this selection? A changing of the guard, or horses for courses? World Cup winners Matt Dawson and Paul Grayson discussed the issue on the Matt Dawson Rugby Show.
Former England scrum-half Matt Dawson:
"This is the moment, is it?
"If it was going to happen, it had to happen in the autumn - a significant shift, with time for another captain to lead the side for a few games before the Six Nations and the World Cup training camp.
Hartley v George for England in 2018
Hartley
George
Stats via Rugbypass
Minutes played
322
507
Carries per 80min
2.48
2.37
Average gain
1.8m
3.7m
Tackles made/missed
47/6
101/3
Lineout success rate
93%
82%
Penalties conceded
2
5
"It's perfectly obvious that Dylan Hartley is influential, not just on the field but off the field and around the hotel and dressing room.
"His line-out throwing is probably the most significant difference between the two around that set-piece, and there is still space for him to be in the 23 and still be incredibly influential.
"And I think another aspect is Eddie Jones asking Jamie George can he boss a game like he did when he was the British and Irish Lions first-choice against New Zealand in 2017."
Former England fly-half Paul Grayson:
"There is more than one way to skin a cat.
"If this is the roles reversing and Hartley has a 20-minute burst at the end of the game, bringing the best part of 100 caps onto the field, it doesn't look a bad dynamic for me.
"Starting George gives England the chance to play a slightly different way without jettisoning all the experience and caps that are needed to win a World Cup."
"In addition, all teams are running out of games before the World Cup.
"If you have only run with Dylan Hartley starting and he gets injured in the build-up to Japan 2019, then you have a guy starting in George who has not made many starts against the real top-tier sides.
"It makes sense to put him in and give him the experience, even if it is only to prepare for that eventuality."
5 live rugby reporter Chris Jones:
"The selection of George over Hartley came a bit from nowhere and I think it is a significant one.
"When Hartley comes on will be interesting. In the past, there has almost been a rush to get George on after 45 to 50 minutes, but Hartley is not that sort of impact player.
"If Eddie Jones waits until 60-65 minutes, then George clearly becomes the 'main' hooker.
"There is also the question of who is backing up these two?
"Exeter's Luke Cowan Dickie, who went to South Africa, is probably the third choice but Jones is operating with just two hookers around the camp at the moment."