Australia pair Kurtley Beale & Adam Ashley-Cooper stood down for 'small lapse of judgement'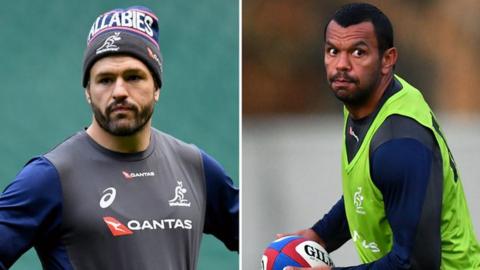 England v Australia
Venue: Twickenham Date: Saturday, 24 November Kick-off: 15:00 GMT
Coverage: Live on BBC Radio 5 live with BBC Two highlights at 19:30 GMT
Australia coach Michael Cheika says Kurtley Beale and Adam Ashley-Cooper were guilty of "a small error of judgement" after they reportedly invited three women to their hotel after defeat by Wales a fortnight ago.
The pair have been left out of the squad to face England on Saturday.
"It's a relatively minor team rule. It could be compared to not making curfew or being late to train," said Cheika.
Earlier on Friday, David Pocock was ruled out of the match through injury.
The 30-year-old number eight, who has been suffering with a neck problem, failed a fitness test after initially being named in the starting XV on Thursday.
Cheika said he was partly relieved Pocock, who missed Australia's win over South Africa in Brisbane in September with a similar injury, would be forced to rest.
"He wanted another day, which obviously you'll afford to a guy like him, but he couldn't overcome it," added Cheika.
"There's a bit of me that is relieved that he came to that conclusion, because he's been copping it. He's been getting smashed in there and no doubt they'd be coming at him again tomorrow."
However, most of his pre-match news conference was dominated by Beale and Ashley-Cooper's lapse in discipline.
It is believed one of the women who visited the team hotel in Cardiff was Ashley-Cooper's sister-in-law, but Cheika insisted the pair's punishment was essential to build a winning culture.
"Obviously there is disappointment and they are disappointed too," he said.
"They were very apologetic, they realised their error and they have been trying to help the other players get ready for tomorrow's game.
"If we want to compete with the best, all the small shortcuts have to be gone, on and off the field.
"It may have been easier to say, 'here are a couple of great players, let's make sure they're in the team because we need a win at all costs'.
"We've been under a heap of heat and we've stayed very solid, we've stayed together. We're able to still make strong decisions.
"We're going to go and do the hard road and put in everything we can to get there every single time."
Peter Samu has been promoted off the bench to fill in at number eight in Pocock's absence, with Marika Koroibete now among the replacements.
Pocock has won 76 caps for Australia since making his debut in 2008.