England women: Claudia MacDonald's whirlwind rise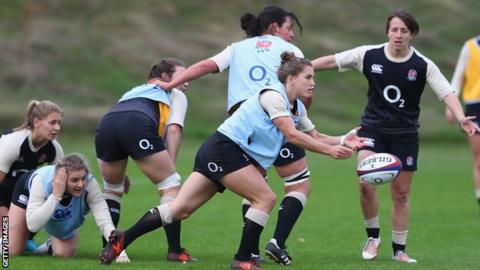 England women v Ireland women
Venue: Twickenham Date: Saturday, 24 November Kick-off: 17:40 GMT
Coverage: Live radio and text commentary on BBC Sport website
Fewer than three years ago Claudia MacDonald was a second-string netball player for Durham University, but on Saturday she will pull on a white shirt and play rugby for England at Twickenham.
When the 22-year-old sings the national anthem, she'll be watched on by her brother, sister, grandparents and an aunt who is flying in from America for the occasion.
As MacDonald stands on the touchline, her smile beams across the pitch while she recalls walking out of the Twickenham tunnel for the team-run: "I just turned to Rachael Burford and said 'this place is enormous'.
"You realise it when you're sat in the stand and it's full of people, but being here on the pitch is amazing and the pitch is really wide."
Selected to win only her third cap off the bench against Ireland on Saturday, her rise up the rugby ranks came after encouragement to give the sport a try at University.
"I gave rugby a go on a cold, dark rainy evening and it just sort of progressed from there."
Her talent quickly led her to captain the Durham University 1st XV and play for her county, then join Tyrrell's Premier XVs side Darlington Mowden Park Sharks.
Playing and training alongside the likes of World Cup winner's Katy Daley-McLean and Tamara Taylor at Sharks gave her a solid rugby grounding: "It was just amazing to be able to learn from those players and not only that, but learn quickly."
Quick isn't just a word associated with the 22-year-old's netball-to-rugby switch.
At Sharks she was predominantly playing at full-back until England persuaded her that scrum-half was her future.
Off the back of the Red Rose's 2017 World Cup campaign, England coach Simon Middleton wanted more depth in his nine options.
He assigned backs coach Scott Bemand the task: "It was about finding the next string of nines so we had four of five options on our depth chart," he said.
"He phoned me months ago and said I think I've found a real prospect."
Bemand had spotted MacDonald playing at Sharks across the back three.
However, the England coach had seen her play scrumhalf for her county and wanted her to play nine.
Middleton explained: "She's a raw and physical specimen. Scotty spent a lot of time with her, working on what the future could look like for her."
MacDonald wanted to move to London earlier this year and the England coaches helped her find the right club. Wasps welcomed her into their Premier XVs training squad.
Again, the word 'quick' is never far from MacDonald's lips: "This is all so much quicker and so much faster than I ever thought it would happen. Wasps is a fantastic club and the coaching and my teammates are great.
"Obviously I wanted to play for England, but I thought maybe in one or two seasons. It's been really exciting and I'm still in shock about it."
MacDonald is maintaining her focus on a strong performance off the bench against Ireland on Saturday, but with England set to announce full-time contracts for XVs women's players in the next few months she is focused on impressing.
"I wouldn't say there's been an underlying tension and we don't really discuss it among ourselves," she said.
"Everyone knows they are coming out in January but we all want to play well as a team and enjoy it as we are."