Wales women 'can be proud' of autumn efforts, says coach Rowland Phillips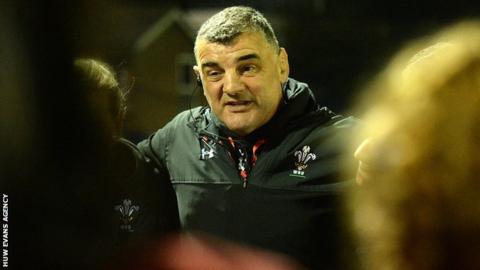 Coach Rowland Phillips says Wales women have had a "successful autumn" despite a 38-21 defeat by Canada in Cardiff.
They had earlier beaten South Africa 19-5 and Hong Kong 65-0 in a first three-match November series.
"I've got a squad of players who can feel proud of what they've achieved and how they've done it," said Phillips.
"We want people to understand that Wales has a women's side that is competitive and building, and proud to wear that shirt."
Canada, four places above Wales at fourth in World Rugby's rankings, scored three tries in the final 15 minutes.
Phillips added: "Every half-chance they got they looked as if they were going to capitalise on it, whereas everything we got we had to work really hard for it, which is how it is against the best sides.
"But it's a huge step up for us against a Canada side that put England under pressure.
"You could have the hardest moments against Canada and probably a bit more. It's a massive hit-up for us, so we need to learn lessons and continue building belief."
Wales will look to improve on a 2018 Six Nations which went downhill after a narrow opening win over Scotland.
They gave debuts in November to full-back Lauren Smyth, centre Alicia McComish, scrum-half Ffion Lewis, flanker Manon Johnes and lock Gwen Crabb.
But their first game in 2019 is in Montpellier against a France side which has just beaten New Zealand.
"We need to understand that this team is good enough to be successful," added Phillips.