Dragons 18-12 Edinburgh: Pro14 scheduling 'mad' - Richard Cockerill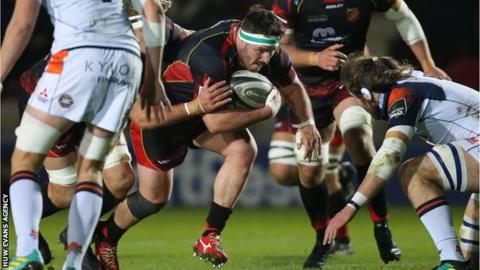 Richard Cockerill has labelled the Pro14 schedule as "mad" with Edinburgh given just four days between games with Dragons and Munster.
The Edinburgh head coach says he can't pick players who were on international duty for the trip to Ireland because they have played too much.
"We get home in the middle of the night, we have a couple of days, and we're on a plane off to Cork," he said.
"That's brilliant, that's great player welfare isn't it?"
Dragons held on for an 18-12 win over Edinburgh, despite a late fight-back from the visitors.
Dougie Fife and Darcy Graham crossed for the Edinburgh tries, one converted by Jaco van der Walt, but Jared Rosser scored in either half for the home side with Jason Tovey kicking eight points against his former team.
They are next in action on Friday away to Munster.
"I won't pick any of the internationals next week," Cockerill told BBC Sport. "They've had a heavy workload.
"The player welfare - you just can't do it. We played tonight at half five, we play next Friday - four and a half days we're playing again.
"In a Test window where Scottish and Irish teams are going to get a lot of guys taken away it's mad scheduling, it's absolutely mad."
Cockerill was frustrated not only at the number of errors his team committed against Dragons, but also with referee Stuart Berry.
"I'll look at some of the officiating and the penalties they gave away," said Cockerill.
"We were camped on their line for 10 minutes and they gave away multiple penalties yet received no yellow card. When we did eventually cross the try line it was a double movement after the referee had spent 10 minutes looking at the screen thinking 'was it wasn't it'?
"I tell you what we'll go against the attacking team. That's life.
"We were camped on their line for what seemed like forever and the referee kept giving them warnings. It's happened in every game that we've played and it never seems to get better.
"But I'll send a report to Greg Garner and I'll get a report back. He will agree with me and we'll just go to Cork and play again.
"I 100% sympathise with Bernard Jackman because referees make decisions which sway games. Everybody should be accountable, it's as simple as that."