Cardiff Blues: Alun Jones to succeed Peter Thomas as chairman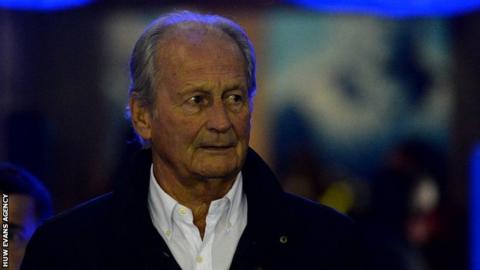 The managing partner of a Cardiff law firm is to succeed Peter Thomas as Cardiff Blues chairman on 1 January.
Thomas is stepping down after more than 20 years in the role, but will stay on Blues' board as a director and has also been made life president.
Alun Jones, 48, of the Hugh James law firm, will take over from Thomas.
Thomas says Jones is "hugely experienced in developing growth strategies and management across numerous levels".
The change comes about as Wales' four regions and the Welsh Rugby Union prepare to enter into what has been dubbed Project Reset, which will succeed a £60m agreement signed in 2014.
Thomas said: "The events of the last two years have seen us develop Project Reset for the four regions and the WRU and this has created the way forward for the professional game in Wales.
"With this in mind, it was the right time for me to take a step back."
'Tough act to follow'
Jones attended Ysgol Glantaf in the city and his legal career began in 1992.
"I have a tough act to follow in Peter but I know I have his full support and that of the board, who have done so much to establish the Cardiff Blues region in the professional era," said Jones.
"I'm looking forward to rolling up my sleeves and meeting the supporters and sponsors, players and staff at both Cardiff Blues and the region's clubs."
Thomas' association with Cardiff rugby began in 1961 as a youth player.
He said: "Along with Sir Gareth Edwards I was privileged to become a founding member of the board when the game went professional in 1996.
"The club has played a massive part in our lives and will continue to do so. Our vision is to take this region back to the top of European rugby.
"I would like to thank the shareholders and supporters for the immense support and loyalty they have given me.
"My special thanks also goes to my colleagues on the Cardiff Blues board, a few of whom were founding members with me."
Long-serving chairman
Businessman Thomas announced his intention to step down as chairman in June, 2018, pledging to write off all of the debts owed to him by Blues, worth more than £11m.
He is among longest-serving chairman in professional European club rugby.
He first invested in the club in 1994 and went on to become one of the powerbrokers in the game in Wales.
He brought some of the biggest names in the game to the Arms Park including Jonathan Davies, Iestyn Harris and Jonah Lomu.
Those signings came at a price and a huge personal cost with personal loans to club totalling more then £9.1m. His company Atlantic Properties Developments PLC are also owed £1.9m, debts that are to be written off.