Rory Best says Andy Farrell will thrive as Ireland coach after Joe Schmidt's exit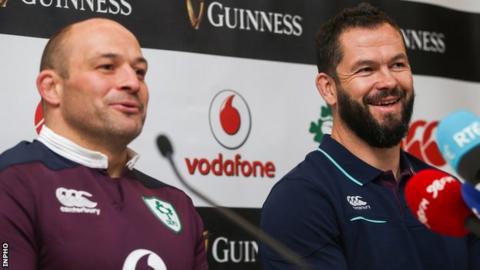 Rory Best says Andy Farrell will thrive as Ireland head coach when he replaces Joe Schmidt after the World Cup.
Current Ireland boss Schmidt will step down after next year's tournament to focus on his family, with assistant coach Farrell then taking the top job.
Farrell, 43, will be in new territory as a head coach but Best believes the Englishman will be up to the task.
"If he talks about any aspect of the game, you just want to buy into it," said the Ireland skipper of Farrell.
"A lot of the time it's about being a good man-manager, being liked and knowing how to interact with the players.
"And probably there's nobody better than Faz [Farrell] for that. Whenever he asks you to do something, he has so much passion about it."
Farrell has learned much from 'master' Schmidt
Best believes that Farrell will have learned immensely from his two-and-a-half years of working with Schmidt.
"When you get somebody like that and you put them into an environment like we've been in for the last couple of years, he's going to learn a lot from Joe Schmidt," added the Ulster and Ireland hooker.
"Joe's biggest legacy is going to be the coaches he leaves behind.
"Once the trophies have all been packed up and the dust has settled on them, it will be the coaches, the likes of Andy Farrell, Simon Easterby, Richie Murphy, some of the players he's coached too, you see it with Leo Cullen now; that is going to be his lasting legacy."
Ulster and Lions hooker Best has risen to captain Ireland under Schmidt, succeeding Paul O'Connell as skipper.
The 36-year-old has led Ireland to a historic third Six Nations Grand Slam and the nation's first two victories over back-to-back world champions New Zealand.
Kiwi Schmidt has dragged Ireland from eighth to second in the world rankings in five years at the helm.
Farrell will face a tall order in building on Schmidt's excellence, but Best believes the former Wigan rugby league star has all the right attributes for success.
"He's never happy with our defence, even though New Zealand didn't score a try against us [earlier this month], he was still saying we can do this better, we can do that better," added Best.
"He is driven. It's all about perfection, it's all about being driven and trying to be better."