Ellis Jenkins: Wales and Cardiff Blues flanker to have knee surgery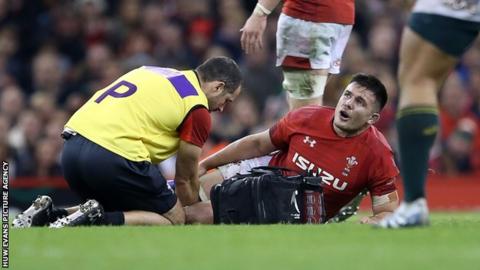 Cardiff Blues have confirmed flanker Ellis Jenkins will need surgery after suffering a "significant" knee injury during Wales' win over South Africa.
According to a Blues statement, the 25-year-old will have "further specialist reviews to establish an accurate prognosis following surgery".
Jenkins hopes his World Cup dream is not over, with the tournament starting in September 2019.
"We all know what is happening at the end of the season," said Jenkins.
"That is still my goal at the moment unless someone tells me otherwise.
"I want to be back playing as quickly and playing well as soon as possible.
"I have had a scan and have to go and see a specialist next week and we will go from there.
"I've been trying to keep my knee moving and get the swelling down."
The Cardiff Blues captain produced a man-of-the-match performance against South Africa before getting injured in the final play of the match.
"It would be nice if the game had finished 30 seconds earlier," said Jenkins.
"My foot has just got stuck and there are two big boys who have tried to clean me out.
"It is just one of those things. It is stuff I get rewarded for in games and part of the game unfortunately.
"It was a great game for us and a good win. It is tough to look back on it now when it finishes like that, but I suppose in time I will look back on it and say it was a really good autumn campaign."
Jenkins was consoled by members of both sides at the final whistle and admitted he was emotional in the changing room afterwards.
"There's nothing you can say," said Jenkins.
"Anytime anyone came up to me and gave me a hug or tried to say something nice, I almost started crying.
"It's just terrible luck. It's nice everyone says congratulations and stuff but it's tough to think about when you get a serious injury at the end of the game.
"My phone has been blowing up since, my family are just worried. Everyone is saying 'well done and hope things aren't too bad'.
"It is nice to receive all the messages but it is a little bittersweet. When you feel like you are playing well you want to keep it going, it's a shame."
Jenkins was only named a replacement 48 hours before the match and was promoted to the starting side after Dan Lydiate was forced out with an elbow injury.
The flanker then switched to number eight early in the game when Ross Moriarty went off with a head injury.
"You want to play every game anyway. I was hoping to have been starting but they rewarded the team that went well against Australia," said Jenkins.
"I just saw it as another opportunity to try and make a stake for the jersey.
"I ended up playing number eight when Ross went off and the last time I played there regularly was when I was 15 or 16 although I have filled in for Cardiff Blues and Wales Under-20s."
Jenkins was talking at a charity fundraising event he attended on crutches just three days after his injury.
"I've just come on board as an ambassador for City Hospice," said Jenkins.
"I've been part of organising stuff when people say they're going to turn up and then they don't.
"They have taken a lot of time to organise this and if I can turn up for an hour and make a little bit of difference, it's the least I can do."