Jared Payne says Andy Farrell will keep pushing Ireland forward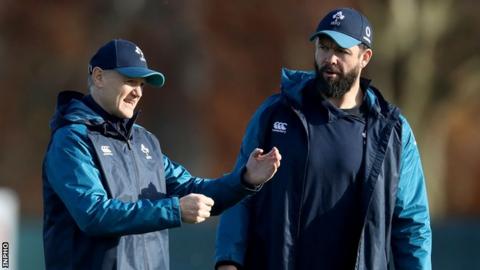 Former centre Jared Payne says incoming Ireland head coach Andy Farrell will keep pushing the team forward when he succeeds Joe Schmidt in a year's time.
Assistant coach Farrell will replace the New Zealander when he steps down after the 2019 Rugby World Cup.
The ex-rugby league star, 43, will be taking on his first head coaching role.
"He gets everyone on the same page so I'm sure whatever he does with Ireland as the head coach he's going to keep pushing them forward," said Payne.
"The results he's got on the pitch speak for themselves. The way he runs a team defensively, the way he gets his message across, his ideas they're all pretty good and he gets the team running well and that's the most important thing.
"He's a good guy too, like Joe, they're both really nice guys and they relate with players well and the players are keen to play for them and that's a massive part of being a coach."
Payne, 33, won all 20 of his Test caps under Schmidt, who convinced his fellow Kiwi to leave his homeland to pursue a career in Ireland.
"He's a pretty nice guy old Joe. He did a lot for me, gave me my first cap so I'm thankful for that and he taught me a few things along the way," added Payne, who was appointed Ulster defence coach following his retirement from playing.
"Ireland are definitely going to miss him, I don't think you lose a coach of that quality and not miss them but they've got someone pretty impressive in Faz (Farrell) stepping in so I think they're in the right place."
Schmidt's principles embedded in Irish players
Ulster and Ireland hooker Rob Herring says that Schmidt's departure will be a "big loss" to Irish rugby but believes that the former Leinster coach will continue to have an impact on the team for years to come.
"There's some basic principles that Joe has embedded in the squad over the last five years and those aren't going to be leaving anytime soon," said Herring.
"He's so good at getting his philosophy and his point across and it's just embedded in guys now and it's embedded in their daily habits.
"I'm sure Andy is going to want to continue a lot of those habits as well, he'll probably want to bring his own thing on top of that but those habits will be around for a while."
Herring, who played in all three Tests of Ireland's summer tour of Australia, has also said that Farrell will be a popular appointment among the players.
"As a person he's a great guy, he's always willing to help boys improve and he's just got that presence within the squad that guys look up to him and will want to play for him," added the South Africa-born forward.
"So I think he's definitely the right guy to take over from Joe."
Farrell's ability as a communicator has also been highlighted as one of the key skills that he has developed under Schmidt since joining the Irish coaching staff in 2016.
"Look at the size of him, you wouldn't not listen to him would you?" joked Payne.
"He gets his message across clearly and he's really passionate about what he wants and that comes across in his delivery so it's tough not to want to follow him and do what he says and get in behind him."