Mike Cuddy: Owner says 'underperforming' players contributed to Neath plight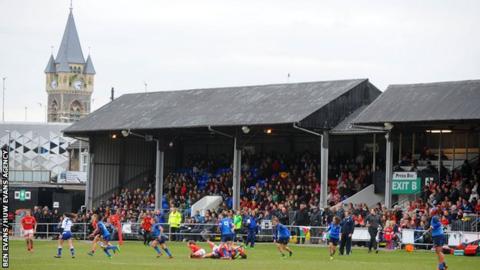 Neath RFC owner Mike Cuddy has issued a statement saying "expensive" and "underperforming" players have contributed to the Welsh Principality Premiership club's financial plight.
Neath Rugby Limited is facing a court winding-up petition.
This was due to be heard this week but has been adjourned to a later date.
"During pre-season we unfortunately recruited significant, expensive and subsequently underperforming players," Cuddy said in the statement.
Cuddy's comments has received a mixed response from Neath fans on social media.
Neath Supporters Club tweeted that Cuddy blamed "everyone but himself" while another Twitter user, Ian Southard, said the statement was "very open and honest."
More than 180 supporters attended a meeting at Neath Rugby Clubhouse on Tuesday night to be updated on developments.
Cuddy, 54, had been invited to attend but said ill-health prevented him from being present and issued the personal statement instead.
The statement continued: "In spite of player bonuses being paid, poor on-field performances continued with resulting match losses. This made us both the most expensive and by some distance the worst performing side in the league.
"It became evident to me that we would have both been relegated and would make a financial loss of over £250,000, which was unacceptable.
"Over the past three years I have already personally funded Neath Rugby to the sum of over £500k, having refinanced the club since taking over from the previous management.
"I could not allow this to continue so had to delay wages and other payments, whilst conducting a full review of the business side of the club. It is understandable that a number of players opted to leave during this period."
Seven-time league winners Neath, founded in 1871, are currently bottom of the 16-team Principality Premiership, with one win from 12 games so far this season.
"While we will do everything within our powers to stave off relegation we face a significant battle given our current position in the league," said Cuddy.
"It is my intention to rebuild Neath Rugby, in its present company structure, from a lower division and for it to be once again successful."
The Cuddy Group, primarily a building contractor, went into administration in July 2018.
Cuddy Group was well known as a sponsor of Welsh sports clubs, most notably the Ospreys, where owner Cuddy was chief executive until 2012.