Mike Cuddy: Neath RFC supporters call for owner to go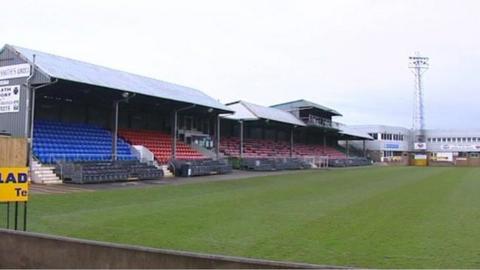 Neath supporters have called for owner Mike Cuddy to step down from the troubled Welsh Premiership club.
Neath Rugby Limited is facing a court winding-up petition.
Cuddy issued a statement on Tuesday night saying "expensive" and "underperforming" players have contributed to the club's financial plight.
But Neath Supporters Club have issued their own statement urging Cuddy to "step aside".
A winding up petition was due to be heard this week but has been adjourned to a later date.
More than 180 supporters attended a meeting at Neath Rugby Clubhouse on Tuesday night to be updated on developments.
Cuddy, 54, had been invited to attend but said ill-health prevented him from being present and issued a personal statement instead, in which he highlighted poor recruitment as contributing to the financial troubles but saying it was his intention to rebuild the club.
But the official Neath supporters group has responded with its own statement in which it calls for Cuddy to leave.
The statement read: "The Neath Rugby Supporters Club has struggled but successfully achieved the objective of being a totally independent entity.
"It is our remit to give a voice to the ordinary supporter and provide support for the team and management through representation on the club's operational team.
"Mr Cuddy intimated in his statement he has financially backed the club for many years.
"However, obviously the financial constraints imposed by the collapse of his various companies in August have hit the club badly, meaning that we have had to largely rely on other sources of income, ie sponsorship, gate receipts etc.
"Mr Cuddy was at great pains to stress in his statement his health is poor and he remains extremely frail. While he professes to love the club and its "real" supporters, it is apparent it would be in the best interest of Neath RFC, its supporters, Welsh rugby and more importantly for his own mental and physical wellbeing that he step aside and let the club begin the arduous task of rebuilding without him.
"The situation Neath RFC finds itself in again is dire but with the continued support of the public and other teams in the area we will fight back.
"A strong leader is needed to guide Neath back to its rightful place, and in his own words, Mr Cuddy is not capable of being that person."
Seven-time league winners Neath, founded in 1871, are currently bottom of the 16-team Principality Premiership, with one win from 12 games so far this season.
The Cuddy Group, primarily a building contractor, went into administration in July 2018.
Cuddy Group was well known as a sponsor of Welsh sports clubs, most notably the Ospreys, where owner Cuddy was chief executive until 2012.
This is not the first time the club has had issues with its finances.
In 2012, Neath survived a winding-up order from Her Majesty's Revenue and Customs (HMRC) over unpaid tax after settling the debt, and in 2014 it faced a winding-up petition over unpaid business rates owed to Neath Port Talbot council.