Troubled Neath call off league fixture against Bedwas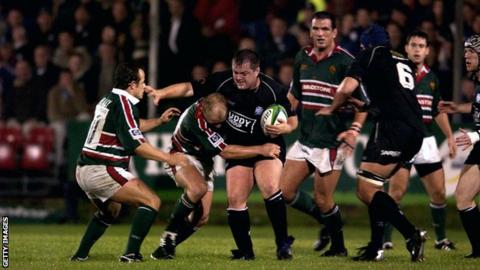 Neath have postponed their Principality Premiership fixture at Bedwas on Saturday amid the financial uncertainty surrounding the club.
The Welsh Rugby Union (WRU) have granted permission to move the game to a new date in the New Year.
Bedwas say the game was postponed because they believe Neath could not raise a side.
Neath Rugby Limited is facing a court winding-up petition.
The official supporters club have called for owner Mike Cuddy to step down from the troubled Welsh Premiership side.
A WRU statement said: "Neath have announced they will aim to reschedule the Bedwas fixture for the New Year.
"We are in close contact with the clubs concerned and monitoring Neath's off-field situation."
A winding up petition was due to be heard this week but was adjourned to a hearing on 6 December in Cardiff.
More than 180 supporters attended a meeting at Neath RFC's clubhouse on Tuesday night to be updated on developments.
Cuddy was unable to attend because of ill-health but issued a statement that evening saying "expensive" and "underperforming" players have contributed to the financial plight and vowed to rebuild the club.
But the Supporters Club issued their own statement the following day urging Cuddy to "step aside".
Seven-time league winners Neath, founded in 1871, are currently bottom of the 16-team Principality Premiership, with one win from 12 games so far this season.
Neath have confirmed they have lost 11 players during the crisis with Ed Howley, Scott Gibson, Ieuan Jones, Scott Andrews, Luke Garrett, Lloyd Evans, Liam Tobias, Chris Morgans, Jordan Collier, Rhys Jones, Darren Hughes all leaving for all other Premiership clubs.
Bedwas say they fear the postponement will cost them a five-figure financial hit.
"I am extremely sympathetic of Neath's plight," said chairman Mark Lewis.
"We had an inkling the game might not go ahead on Tuesday because they could not raise a side and that was confirmed today.
"It is very disappointing for us. Financially it is crippling and we are into a five figure sum of losses.
"Saturday is the best day when we get the best gates and bar takings. We lose a sponsor because they don't have the time to do it in the week and we will earn a fraction on a Tuesday or a Wednesday."
Lewis hopes the match will eventually be awarded to Bedwas instead of a postponement.
"It now looks like it will be called a postponement rather than a walkover which will mean we need to reschedule," said Lewis.
"It is not entirely clear and I have written today suggesting it should be a walkover and we should receive the points."