Dean Richards: Newcastle boss 'expected common sense to prevail' in rejected player request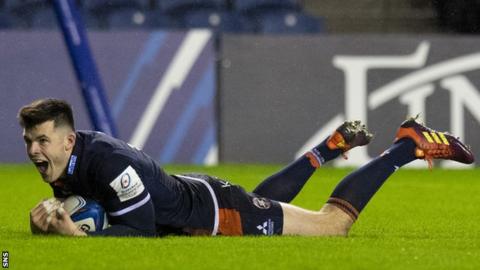 Newcastle boss Dean Richards accused European Cup organisers of disregarding player welfare in Friday's 31-13 Champions Cup defeat at Edinburgh.
Following a front-row injury crisis, European Professional Club Rugby (EPCR) rejected the Falcons' request to register an extra tighthead prop.
It meant Newcastle fielded loosehead Sam Lockwood on the wrong side of the scrum with no cover at tighthead.
"You would expect common sense to prevail," Richards said.
Speaking on BBC Radio 5 live, he added: "That's life, isn't it? If that's the stance they want to make and player welfare doesn't mean that much to them, then so be it."
BBC Sport understands the request was rejected by EPCR because of the precedent it may have set.
It is also understood several French clubs also sought to register players after the deadline this week, with all requests refused by EPCR.
No club has this season been given special dispensation with regards registering players outside tournament regulations.
Newcastle's director of rugby Richards told reporters: "You lose three tighthead props in 24 hours, you ask for dispensation to bring in another one and you're not allowed that so you have to play a loosehead on the tight.
"It's not like playing a left wing on the right wing or an inside centre at outside centre. There is a safety issue there and they weren't prepared to address it, so I was particularly disappointed with it."
Richards said he had spoken to Edinburgh head coach Richard Cockerill about the issue before the game, which he later described as an "unfair contest".
"In the Premiership, you have the ability to register somebody say for a Saturday game up to midday on Friday," Richards told BBC Radio 5 live.
"In Europe you've got this issue whereby on a Tuesday at midday I passed that point, you're not allowed to change anybody.
"I spoke to Richard on a couple of occasions, he would much have preferred us to have put a tighthead in there.
"I just thought at certain times in the game it made it a bit of an unfair contest."