Neath Supporters Club reiterate plea to Mike Cuddy to relinquish control of club
Last updated on .From the section Welsh Rugby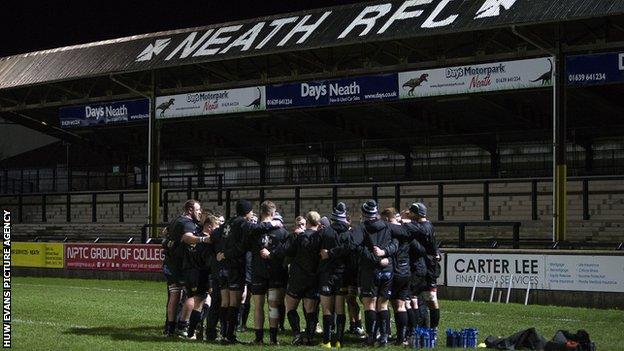 Neath Supporters Club have reiterated their wish for Mike Cuddy to relinquish control of the club in an open letter.
Cuddy previously told BBC Sport Wales he was willing to hand over the troubled club which escaped a winding up petition earlier this month.
Neath Supporters Club welcomed the news, but have now sent an open letter to Cuddy to ask him again to relinquish control.
Neath are currently bottom of the semi-professional Principality Premiership.
"It would be an understatement to say that 2018 has been a disastrous year for you and for Neath Rugby," the open letter reads.
"You have spoken recently about your significant ill-health issues and your inability to continue to run the club.
"You have said that you hope to sell Neath Rugby Limited within weeks. There is no evidence available that anybody wishes to buy the club."
Earlier this month fans called for Cuddy to leave while more than 70 former players, including ex-Wales internationals Paul Thorburn, Duncan Jones and Rowland Phillips, have put their name to a statement organised by Martyn Morris posted on the club's website urging ownership to change hands.
Cuddy initially indicated he wanted to stay and build up the club again, but then said he was prepared to leave because of his ill-health, implying a takeover could be completed "within weeks".
However the supporters group remains cautious over Cuddy's comments and insisted it would not be buying the club off its owner.
The supporters club want Neath Rugby Limited to be wound up so a new company can be launched to revive the side.
The open letter published on Christmas Eve continued: "This letter is to ask you once again Mr Cuddy to please wind up Neath Rugby Limited straightaway and to allow a new group of people to relaunch Neath Rugby as a club of which the town of Neath can be proud.
"Every day which passes with the club in your ownership places 147 years of history at risk.
"A group of supporters and new investors are waiting to be given an opportunity to start rebuilding Neath on and off the field.
"Please show that you care about Neath and let them start the rebuilding process now. This would be the best possible Christmas present for Neath players and for the town."
Neath's Boxing Day fixture against Aberavon is scheduled to go ahead, despite the supporters group suggesting 90 percent of the players will be on permit off the back of a 78-5 defeat to Bridgend on 22 December.
The supporters group have described the situation as "unprecedented and devastating".
For the latest Welsh rugby news follow @BBCScrumV on Twitter.