Edinburgh 23-7 Glasgow: Warriors 'will be hurting' for Scotstoun return - Cockerill
Last updated on .From the section Scottish Rugby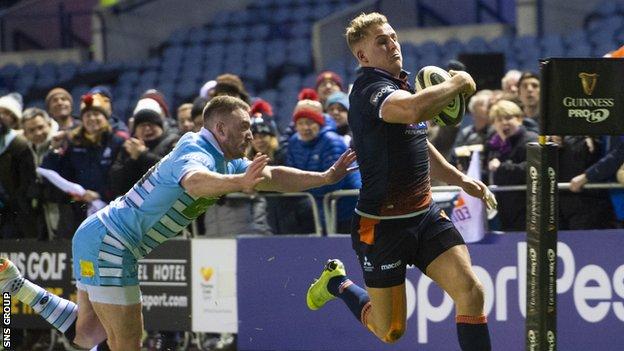 Head coach Richard Cockerill says it will be a "very big step" for Edinburgh to back up their Murrayfield victory over Glasgow by beating the "hurting" Warriors at Scotstoun next Saturday.
But he believes the 23-7 win over their inter-city rivals proves they are "a good side" and "a tough team to beat".
It lifted the capital outfit up to fourth in the Pro14's Conference B.
"I thought we were outstanding; we pressured them into making errors and took advantage," he told BBC Scotland.
"We deserved to win. Glasgow are different from us and play some great rugby. They are a hard team to play against. You have to stop them getting into their rhythm and we did that with our defence. I'm really proud of the performance."
The two teams meet again at Scotstoun on 29 December in the second leg of their annual 1872 Cup series, with Edinburgh now having won three of their four encounters since Cockerill took charge, and six of the last eight overall.
"They will be hurting and they will come back with double effort," Cockerill said. "But they came here to win, they picked their best side, they wanted to come here and physically dominate us and they weren't able to.
"We are a tough team to beat and we were tough to beat today. We are a good side, we are developing really well and we are going to get stronger and stronger.
"We will freshen up, go there and play as hard as we can and try to win, as we did tonight."
'Hastings will bounce back' - Rennie
Glasgow head coach Dave Rennie felt his side's performance was a "massive disappointment" after five successive wins.
Fly-half Adam Hastings saw two passes picked off by Edinburgh wing Duhan van der Merwe, who sprinted away to score tries on both occasions.
Peter Horne did grab a try back just before half-time from younger brother George's chip-kick, but the visitors couldn't muster a point in the second half.
"It was well under the intensity and accuracy we've been playing with over the last few months," Rennie told BBC Scotland.
"We defended well for long patches but the disappointment was on attack. We knew they were going to kick a lot of ball to us and knew how they were going to defend, but we got too lateral, tried to throw passes over the top and they got picked off. We created our own problems.
"We didn't work quickly enough to get into position to expose them in areas where we thought we could. I'm not sure why. We have been really sharp. We'll have to get that right for next week."
Rennie backed Hastings to react well to the setback of conceding two interception scores.
"From a distribution point of view he has ended up going lateral and falling off a pass," he added.
"It is an easy fix. He works really hard on that part of his game and I am sure he will bounce back pretty quickly."
Rennie is giving his side four days off before they return to training on Thursday before next Saturday's return game at Scotstoun.
"That should leave a bit of time for some soul-searching over Christmas," he added. "Hopefully we can put it behind us."
Hastings 'up to to 80% good, 20% bad' - Analysis
Former Glasgow half-back Colin Gregor on Radio Scotland:
"It is a character-building day for Adam Hastings. It has been almost fairytale for him since he came into the Glasgow team and he has played very well.
"But part of that is because in most games his forwards have been the dominant pack and if you are playing on the front foot, it is so much easier. But today their forwards were up against a brick wall and Hastings was in a situation he has not experienced that often.
"It was a tough one for Adam but he has the personality - like Finn Russell - to bounce back quickly from mistakes."
Former Scotland prop Peter Wright on Radio Scotland:
"Hastings is improving but when he first came into the team he was 60% good and 40% bad. He's up to 80% good, 20% bad. After he gave the first interception, you would work so hard not give a second one, but you've got to praise the Edinburgh defence - that's what forced the errors."