Lions must follow the Barbarians and launch a women's team, says Jasmine Joyce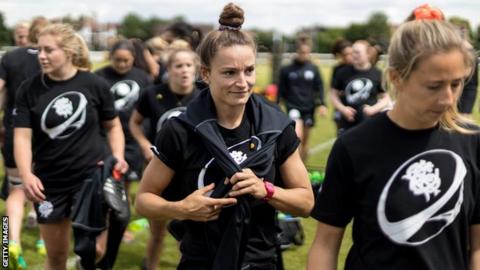 Wales winger Jasmine Joyce believes the British and Irish Lions need to follow the example of the Barbarians and create a women's team.
The 129-year-old Barbarians club launched their women's team in 2017-18.
The Lions have agreed in principle that a women's team "is an important step forward" but have not yet committed to when it could happen.
"Hopefully they will bring out a Lions and I can get into that, that'd be my next goal," said 23-year-old Joyce.
"If the men can do it, then why can't the women? It's very similar to the Barbarians, although obviously it's just the four countries."
The Lions - drawn from the cream of England, Ireland, Scotland and Wales - began their touring tradition in 1888, two years before the Barbarians club - which invites players from around the world to play - was created.
The Barbarian women began life with wins over Munster and the British Army in 2017-18 but only played their first international in April 2019, beating USA Eagles 34-33, helped by four tries from Joyce on her Baa-Baas debut.
Joyce is again part of the squad that will play England at Twickenham on 2 June as part of a double-header with the men's teams.
"I don't think I've ever scored four tries in my entire life and I get to do it when I'm playing for the Barbarians," said Joyce, who also played for Great Britain sevens at the 2016 Olympics.
"It makes it easy playing with world-class players around you; it's something amazing and not often you get to do it.
"To score even one try again would be awesome, especially against England at their home ground."
A Lions spokesperson said: "A Lions women's team has and will continue to be discussed as we look forwards."