England fined for crossing halfway during All Blacks haka
Last updated on .From the section Rugby Union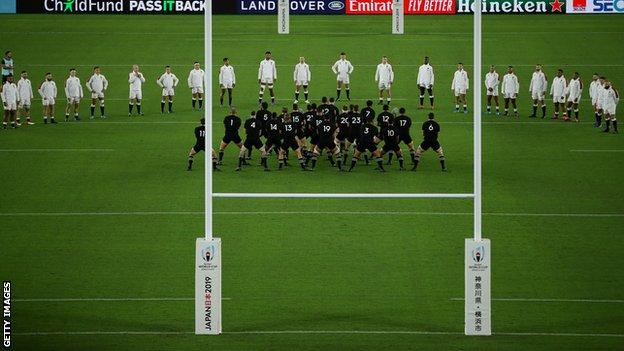 England have been fined £2,000 for crossing the halfway line as they lined up in a V formation to face the haka before their Rugby World Cup semi-final match against New Zealand.
World Rugby rules stipulate teams must remain within their own half of the pitch to receive the challenge.
Referee Nigel Owens and his team had to usher several England players back as they strayed over halfway.
England won the game 19-7 and will play South Africa in Saturday's final.
World Rugby said England breached tournament rules "relating to cultural challenges".
Reacting to news of the fine, New Zealand head coach Steve Hansen said he thought England's response to the haka was "fantastic", adding: "They didn't get fined for responding, they got fined because they went over halfway.
"If you understand the haka then it requires a response. It's a challenge to you personally and it requires you to have a response. I thought it was brilliant - quite imaginative too."
In 2011, France formed an arrowhead shape and advanced on New Zealand while they performed the haka before the World Cup final in Auckland and were subsequently fined £2,500 for breaching a "cultural ritual protocol".
England broke from the customary shoulder-to-shoulder stance and instead lined up in a V shape, with two prongs projecting towards the All Blacks, to receive the haka.
Captain Owen Farrell said England planned their response to show New Zealand they would not have things all their own way in their match.
"We didn't just want to stand in a flat line and let them come at us," said Farrell, who seemingly smiled during the haka.
Centre Manu Tuilagi added: "Everyone wanted to show that we were ready and together. It was something different that I think Eddie [Jones] suggested."
New Zealand captain Kieran Read said England's haka reception had "no impact" on the match, while hooker Dane Coles described it as "awesome".
A video on World Rugby's YouTube channel called "England's incredible response to intense New Zealand haka" has been viewed more than four million times.
England's fine will be donated to charity.