George North: Ospreys and Wales wing handed four-match ban
Last updated on .From the section Rugby Union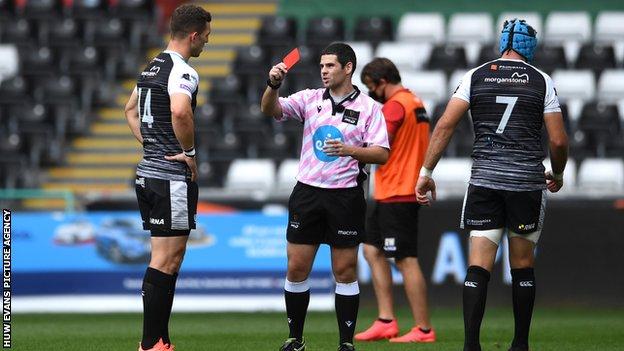 Ospreys and Wales wing George North has been suspended for four matches after his red card against Dragons.
The offence carried an eight-week suspension but was halved.
North's clean disciplinary record, acceptance of his actions and remorse shown warranted application of 50% maximum mitigation.
It was the first red card of North's professional career.
The British and Irish Lions wing was punished by referee Adam Jones under Law 9.17 - A player must not tackle, charge, pull, push or grasp an opponent whose feet are off the ground.
North accepted that his actions warranted a red card for foul play for the incident was deemed a mid-range offence.
As the 2020-21 season fixtures are not yet finalised, the ban will span over the course of four meaningful games starting with the final Pro14 match of the 2019-20 season against Cardiff Blues at Rodney Parade on Sunday, 30 August.
North has the the right to appeal.
"What's happened is happened, no one can disagree with what went on. George is not a malicious guy at all," said Ospreys head coach Toby Booth.
"It was unfortunate, one of those rugby incidents that was careless. It looks bad but we have a duty of care for players. I understand that, we draw a line under it and move on.
"If you look at how well he finished his try, for example, there's not many wingers can score that try.
"He's visible even in the 15 minutes he was on. Everyone knows what George can do. We were delighted he was excited about being out there.
"He epitomises where we are going with an attack-based game and it was disappointing for him to leave the field so early."
Booth says North was trying to cope with the decision.
"He's bitterly disappointed," said Booth.
"He felt like he'd let the team down and apologised in the changing room after the game and has done so repeatedly since.
"He's keen to help the team in any way he can, because ultimately he wants to be part of a group that wants to move forward.
"It's unfortunate for him he can't do that on the pitch, but we'll find ways we can utilise him to help improve us as a group."
Wales have plans for a warm-up match against France on 24 October before the confirmed final 2020 Six Nations fixture against Scotland on 31 October.
Booth believes North will miss the final game of the 2019-20 season and the first three of the next campaign which is due to start in October but there has been no 2020-21 fixture list provided yet.
"If they are the first four meaningful games, I'm not intending to get four friendly fixtures that I'm going to say are meaningful," said Booth.
"We will prepare for this game, finish this season and get ready for next.
"As and when George is available for us, we'll get him back up and running. He'll still play an active part in training, in the development of youngsters and he can contribute
"That's important for him mentally and physically."