WXV: 'Landmark' global women's rugby union competition launched
Last updated on .From the section Rugby Union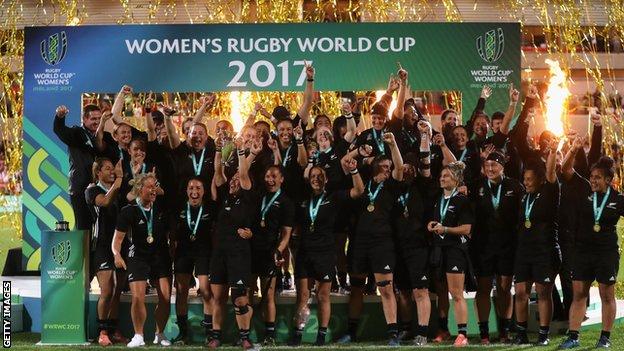 A "landmark" global women's rugby union competition has been launched by the sport's international governing body.
World Rugby is investing £6.4m in the WXV tournament, due to begin in 2023.
The competition will have three tiers, offering consistent international Test-match opportunities to 16 teams to help them prepare for the 2025 World Cup.
World Rugby Chairman Sir Bill Beaumont hailed a "landmark moment" and said the plan would "accelerate the development of the women's game".
The announcement comes a week after the 2021 World Cup - for which three teams are yet to qualify because of postponements caused by the coronavirus pandemic - was pushed back to 2022.
World Rugby is yet to confirm new dates for the tournament but chief executive Alan Gilpin said it was expected to be played in October-November 2022.
The WXV competition will be played in a global window from September to October, except in World Cup years.
World Rugby says the aim of the tournament is to help teams prepare for a 2025 World Cup that will feature 16 teams - an expansion on the usual 12.
Domestic women's leagues, such as England's Premier 15s, will have to start later to accommodate the new format.
How will WXV work?
Regional competitions, like the Women's Six Nations, must be completed by June each year and will determine qualification for WXV.
A competition featuring Australia, Canada, New Zealand and USA will also be established as a qualification route for the top tier of WXV.
WXV 1, the top tier, will involve six teams in two pools playing three matches against teams in the other pool at a standalone tournament in a location that may change yearly. Final placings will be determined by a points table.
The top three teams for the Women's Six Nations, plus three of Australia, Canada, New Zealand and the United States will qualify. There will be no promotion or relegation in the first cycle of WXV 1.
The second tier, WXV 2, will be played in the same format and will involve two teams from Europe, one of Australia, Canada, New Zealand and the United States and one other team from Oceania, as well as one each from Asia and Africa.
The regional position of the team who finish sixth will be relegated to WXV 3, while the regional position of the team who finish top in the third tier will be promoted.
For example, if Italy were to finish sixth in WXV 2, one of the European positions in the second tier would be moved down to WXV 3 and whichever team qualified for that European position the following year would play in WXV 3.
WXV 3 will consist of two teams from Europe, one from Asia and the winner of an Africa v South America play-off playing in a round-robin format.
The fourth-placed team will then face the next best ranked team in the world rankings to retain their place in the competition.
World Rugby is also launching a Women in Rugby commercial programme to "further profile, engagement and sustainable growth".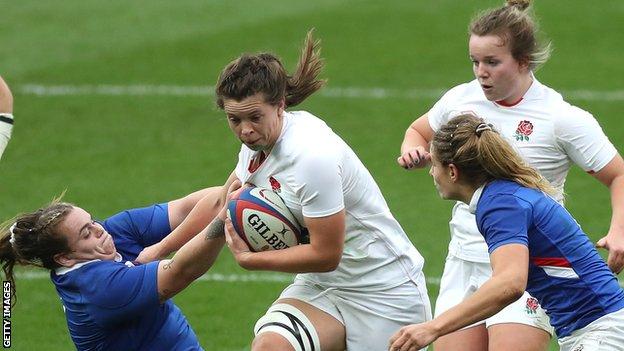 Hopes WXV will be free to watch
Gilpin said there were "no guarantees" the tournament would take off commercially, but added that World Rugby is in "advanced discussions" with potential future partners for the competition.
The governing body's chief executive wants coverage of WXV to be "free to consumer" to "bring more women and girls into rugby".
Gilpin hoped this would be achieved by partnering with free-to-air broadcasters and streaming some games on World Rugby channels.
"There is huge interest and appetite in partnering with the women's game," he continued.
'Ongoing conversations' about changes to men's game
Discussions to create a more harmonised men's global calendar continued in 2020 but are yet to bear fruit.
Gilpin hailed WXV as a way to "create more meaning throughout the year" with regional competitions taking on more significance as qualification pathways for the international tournament.
"We've talked a lot in recent years about trying to get to a similar point in the men's game," he continued.
"There have been some great discussions over the course of the last 9-12 months on the men's XV calendar in that regard and we are just back into those discussions now.
"I wouldn't necessarily say it is a model that is going to be followed in terms of the way the results of one competition might feed through, but bringing more meaning to other parts of the men's XVs calendar and using results for the other competitions that exist is definitely a conversation that's ongoing."