Ben Ainslie wins Finn class gold at World Cup in Hyeres
Last updated on .From the section Sailing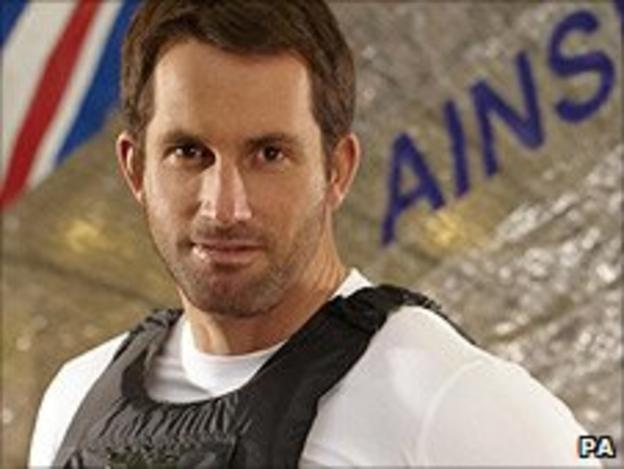 Britain's three-time Olympic champion Ben Ainslie sealed gold in the Finn class with a day to spare at the World Cup event in Hyeres.
Two-time world champions Alexandra Rickham and Niki Birrell dominated their Paralympic Skud category, also sealing gold a day early.
The match racing trio of Annie Lush, Lucy Macgregor and Kate Macgregor are guaranteed at least silver.
And Alex Hovden and Kate Mannerings are also assured of a Skud team silver.
With six wins from the 10 races sailed so far, Ainslie has an unassailable 29-point lead heading into Friday's final medal race, sealing his regatta victory with a win, followed by fourth and third-placed finishes from the fleet's three outings on Thursday.
The day proved less rosy, however, for team-mate Giles Scott, who went into the penultimate day in third place overall, but his medal hopes came to a rapid halt when he was forced to retire from both of the first two races after receiving two yellow-flag penalties for sculling.
He still made the cut for the 10-boat finale on Friday but he is in seventh place and he and team-mate Ed Wright [eighth overall] are now out of medal contention.
"It's been a really good week," said Ainslie, 34. "I'm happy with the result and it's nice to win with a day to spare - it takes the pressure off the medal race.
"I'm really looking forward to the next regatta, which will be Sail for Gold [at Weymouth] in five or six weeks' time which, being at the Olympic venue, is obviously a bit more relevant in terms of the Games next year. Hopefully I can keep the form going and keep the results coming along for that regatta as well, so that's really the focus now.
"The last two regattas have been really good for me - I seem to be happy with the kit development we've done over the winter and speed seems to be reasonably good in some conditions and very good in others, so hopefully I've got a package I'm happy with. So I've just got to go out there and race well.
"The important thing is to try to keep the consistency, and try to keep things rolling along for the next event."