Star class dropped by ISAF from 2016 Olympics in Rio
Last updated on .From the section Sailing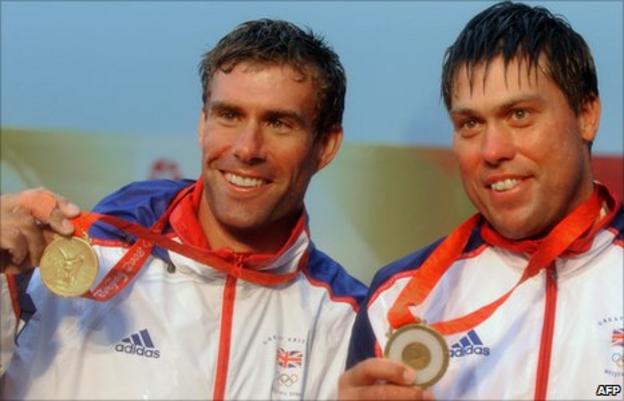 The Star keelboat, a class in which British sailors have excelled in recent years, has been dropped from the 2016 Olympic Games in Rio de Janeiro.
The decision was revealed as the International Sailing Federation (ISAF) named 10 events for Rio.
It has also ditched the Elliott class, meaning it will only feature in one Olympics, London 2012.
Great Britain's Iain Percy and Andrew Simpson won the Star event at the 2008 Olympics in Beijing.
The changes mean there will be no keelboat events in Rio, but the ISAF has added new women's skiff and mixed multihull events.
Percy and Simpson will still be able to defend their Star title at the London 2012 Olympics sailing competition at Weymouth Bay and Portland Harbour.
But both have previously questioned the idea of removing keelboat events from the Olympics.
In March, Percy told BBC Radio Solent: "It would take away a skill for the young people up and coming.
"A real interesting part is some of the bits that make it a sport that people love for the whole of their lives, the technicals, the intricacies, the little turns on the shrouds or a little bit of a change on the rudder angle."
The three-person Elliott 6m boats were selected to replace the Yngling for London 2012.
Great Britain's Yngling crew of Sarah Ayton, Sarah Webb and Pippa Wilson, dubbed the "three blondes in a boat", took gold in the 2008 Olympics sailing event at Qingdao.
The Royal Yachting Association broadly supported the ISAF's decisions, though John Derbyshire, its racing manager and performance director, said it was "disappointing in some ways to be losing an old friend with the removal of the Star class, which has been a fixture in Olympic sailing since 1932".
Derbyshire said the list of events "shows progression within the sport and a clear pathway now, particularly for girls transitioning from the youth classes into Olympic campaigning".
The ISAF announced the line-up for Rio 2016 at its mid-year meeting in St Petersburg, Russia, after more than three hours of debate.
It had received more than 50 submissions after agreeing a provisional list of events last November.
Derbyshire added: "The mood of the meeting clearly showed that the retention of the keelboat events is not the right thing for the future growth and appeal of the sport in Olympic terms right now, and that the events chosen reflect more the mass participation of young sailors within sailing and the RYA supports those views."